We had a lovely summer, getting out and about around the country at various different events. Here's a round up of where we went, what was popular and our thoughts on each festival.
Open Studio - May
The summer started with our own Summer Open Studio, which this year took place across two days. We welcomed lots of lovely customers - many from the local area but some who had travelled quite some distance across the UK to come and see Jo and her new designs, which was lovely and very much appreciated!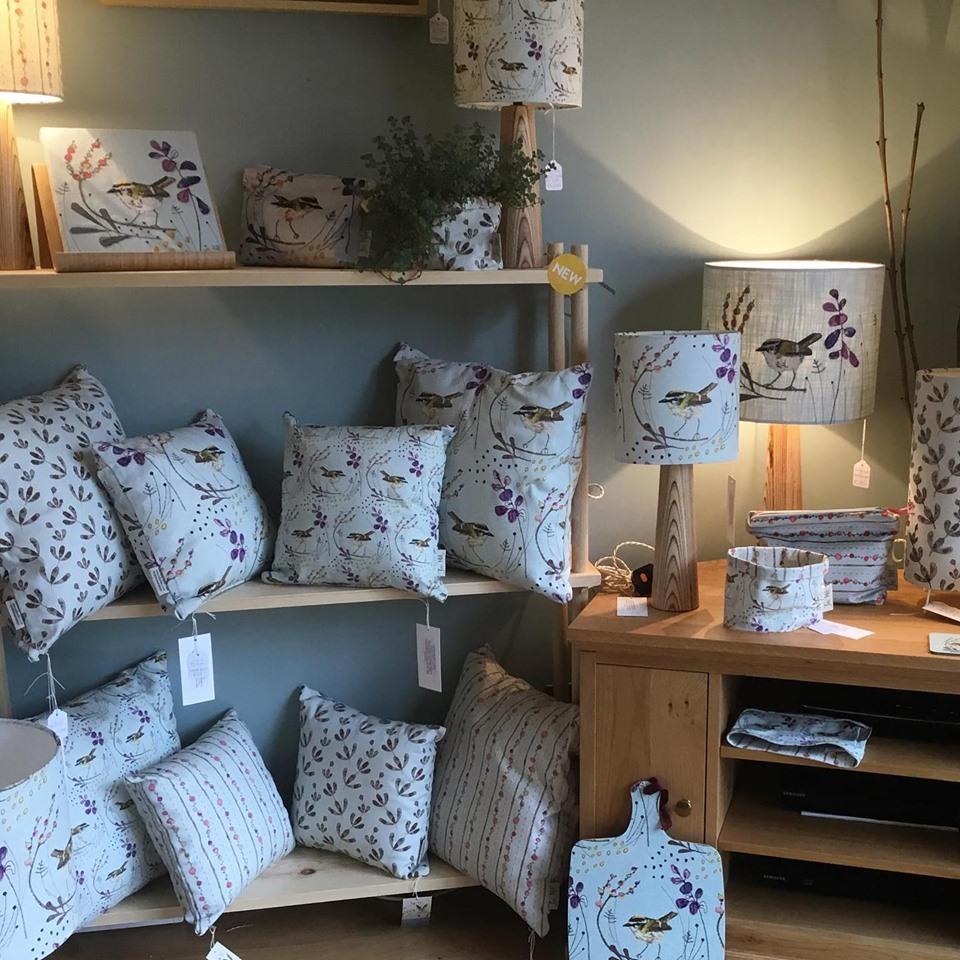 Here's Jo's Goldcrest design with a couple of Stitched Lines and Rambling Leaves to complement them. Did you know that the goldcrest is the UK's smallest bird? Jo wanted to celebrate those hidden details of our British countryside and recreated the lovely colours of this bird in fabric and stitch. The design is available as cushions, lampshades and tableware, as well as as cosmetic bags and tea towels. It seems that it's a popular little bird as well - the Goldcrest design was the best-selling of all of the designs over the weekend.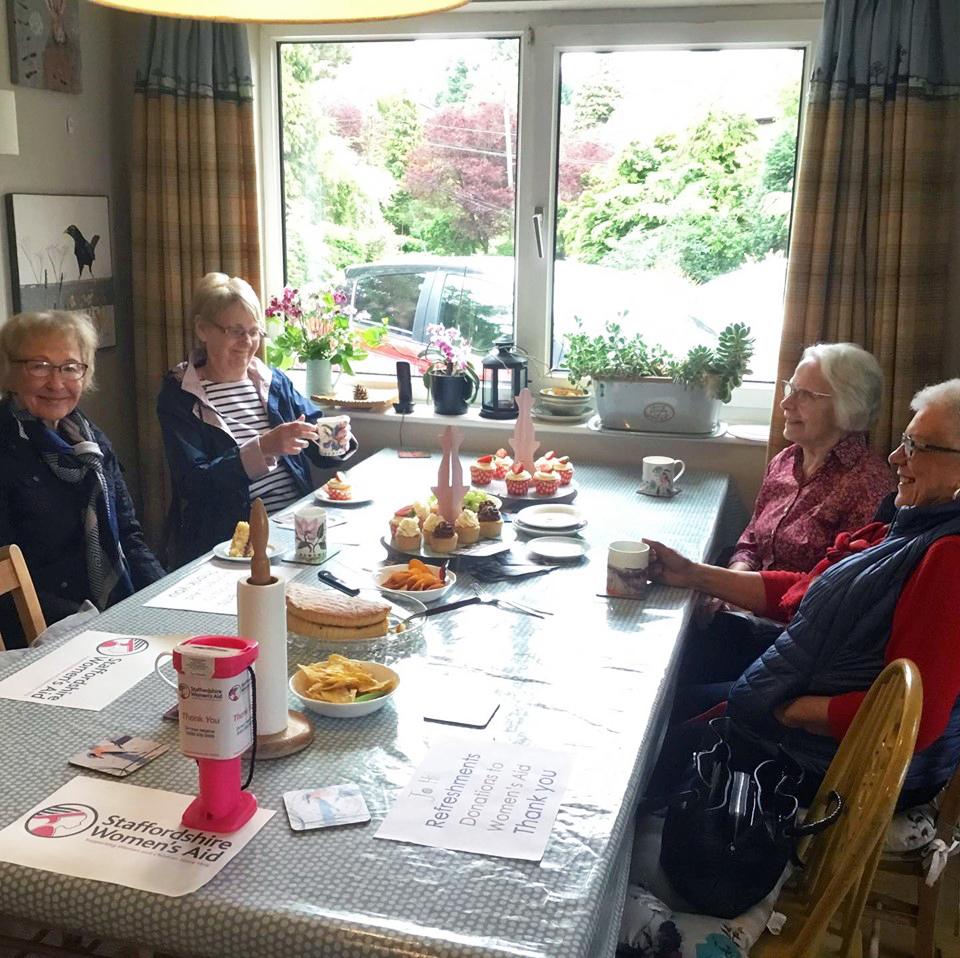 Visitors had the opportunity to enjoy a cup of tea and cake in exchange for a donation to the charity Staffordshire Women's Aid. Since Jo Hill Textiles is a business run by two women, and our lovely customers are nearly all women, we thought it would be a great idea to support other women in the local area too. Thanks to your generosity, we were able to donate just under £90 to Women's Aid.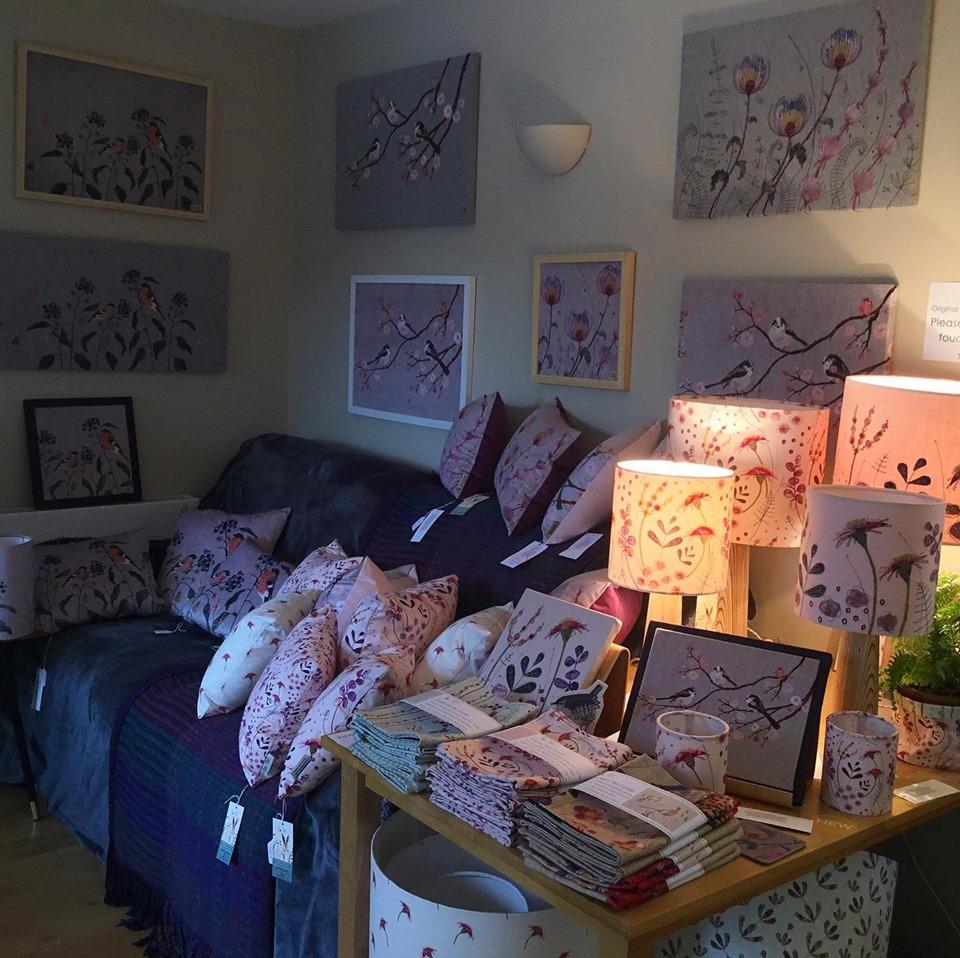 Jo spent the day in her garden studio, teaching lantern making workshops. Visitors had the opportunity to learn how to make a lantern, complete with battery operated tealight, using one of Jo's beautiful fabrics. The lantern workshop is very popular and we'll be running it again at the next Open Studio... and if you have any other ideas for workshops which you'd like to do, please let us know!
The Open Studio is a great way to showcase the new collections. We love welcoming visitors and as a thank you for coming along, there are fantastic discounts to be had, as well as offering visitors a unique chance to buy samples, 'seconds' and previous season's designs at seriously discounted prices. We'll be opening the studio and Jo's home twice a year from now on - firstly in May and then again in November/December. Hope to see you there!

Sew Crafty - June
We were lucky enough to be invited to the Museum of Cannock Chase for this annual event, on a very rainy Saturday in June! The weather didn't dampen anyone's spirits as it was very well attended and visitors enjoyed a variety of different stalls offering a good range of craft supplies.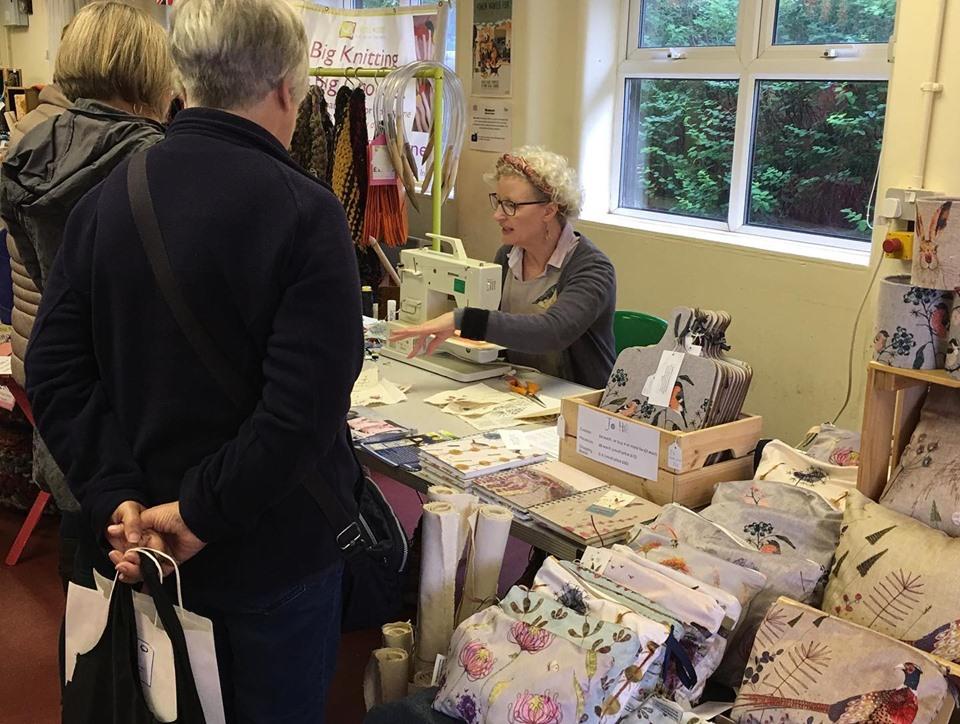 In this photo you can see Jo demonstrating her free motion embroidery technique to intrigued visitors! She made lots of little samples which we offered out with any purchase. The samples could be used as bookmarks, or stitched onto card to create a greetings card.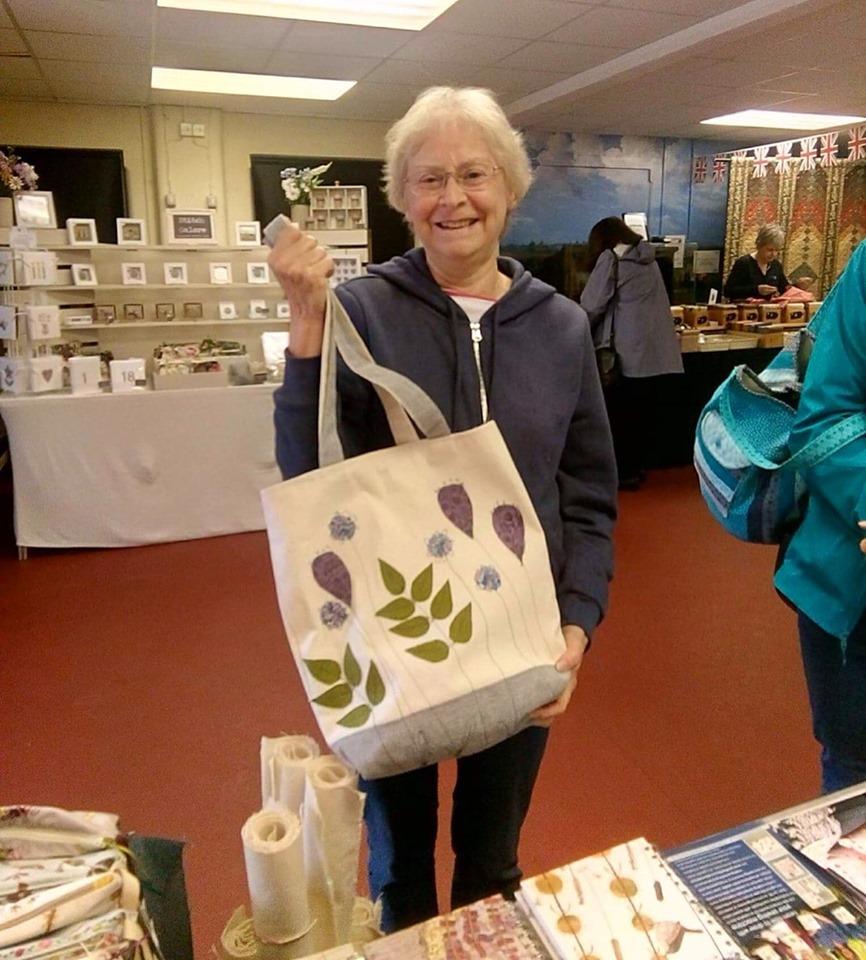 What a lovely surprise to have a visit from customer Val, who turned up with her completed Country Garden Tote Bag. This design is available as a kit and it was definitely kits that visitors were interested in at the Sew Crafty event. Lots of creatives in Staffordshire - it is 'the creative county' after all! This was a really valuable way for us to test the market as we launched the Wren Cushion, the Wren Lampshade and also the Beginner's Wall Hanging Kit at this event. It certainly was a busy few weeks beforehand with the sourcing of fabric, sampling, step photography, instruction writing and putting the kits together!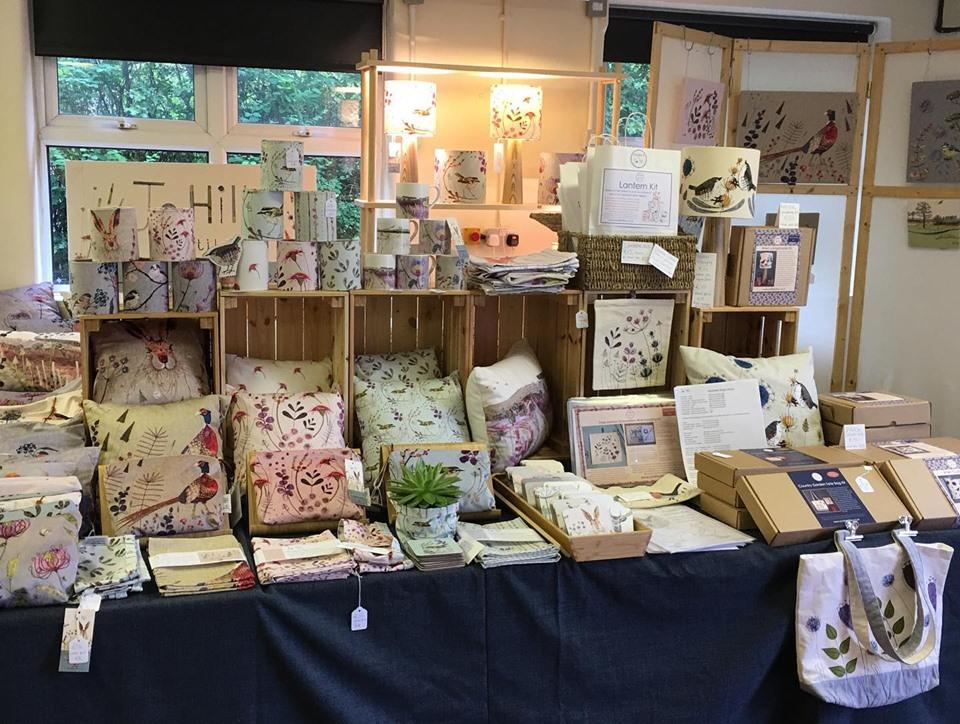 From left to right on the stand... Cosmetic bags, lanterns, cushions, mugs, tea towels, lampshades, coasters, free motion embroidery kits, tote bag kits, lampshade kits and cushion kits.

RHS Tatton Park - July
This was the first time that Jo Hill Textiles has exhibited at this exciting event. A brilliant source of inspiration for gardeners, it is also a wonderful opportunity to buy from independent designers and makers. Some of the stands are in the Country Living marquee, with others outside in delightful wooden chalets. We chose to have our stand in the Country Living Pavilion - a huge marquee housing a variety of different boutiques, from ceramics to chocolate, and clothing to candles. This turned out to be a very wise decision as on the Friday of this five-day event, we were treated to an absolute deluge by the weather gods, as well as a mini-tornado which made it onto the news!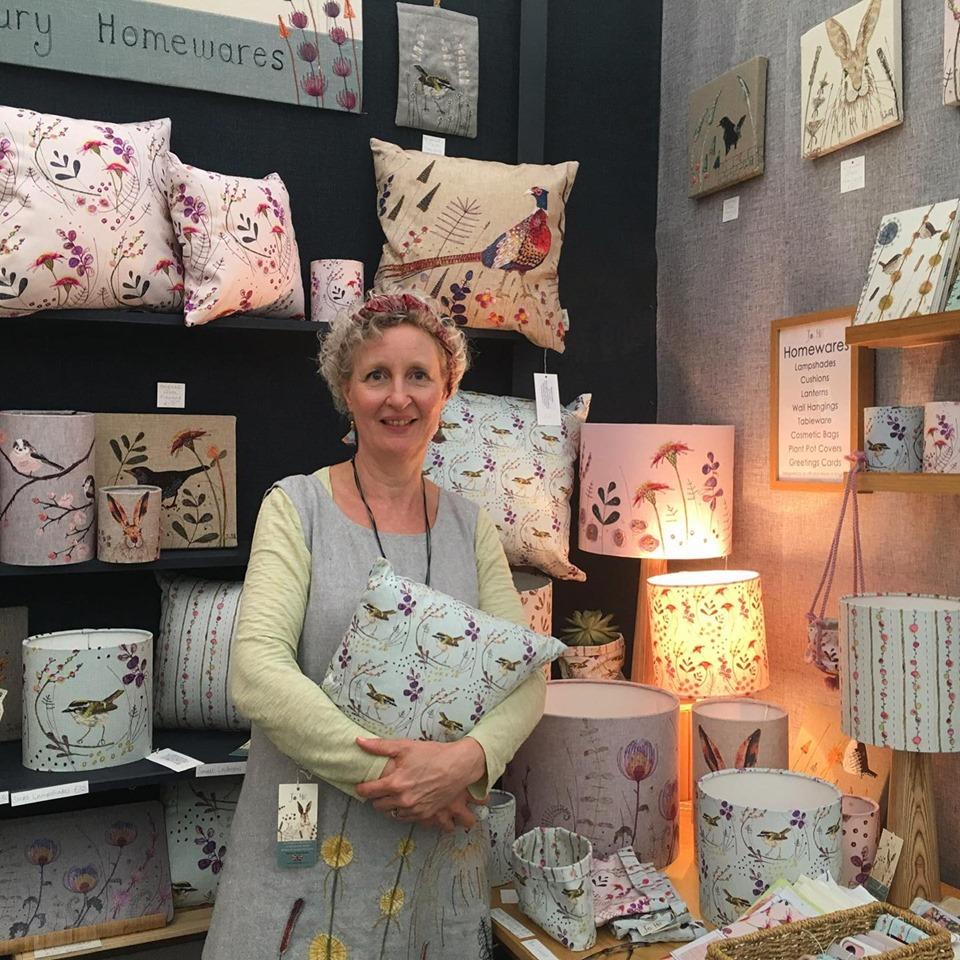 The most popular items were definitely lampshades and cosmetic bags. The bags make lovely gifts and the most popular lampshade designs were the Zinnias and the Goldcrest shades.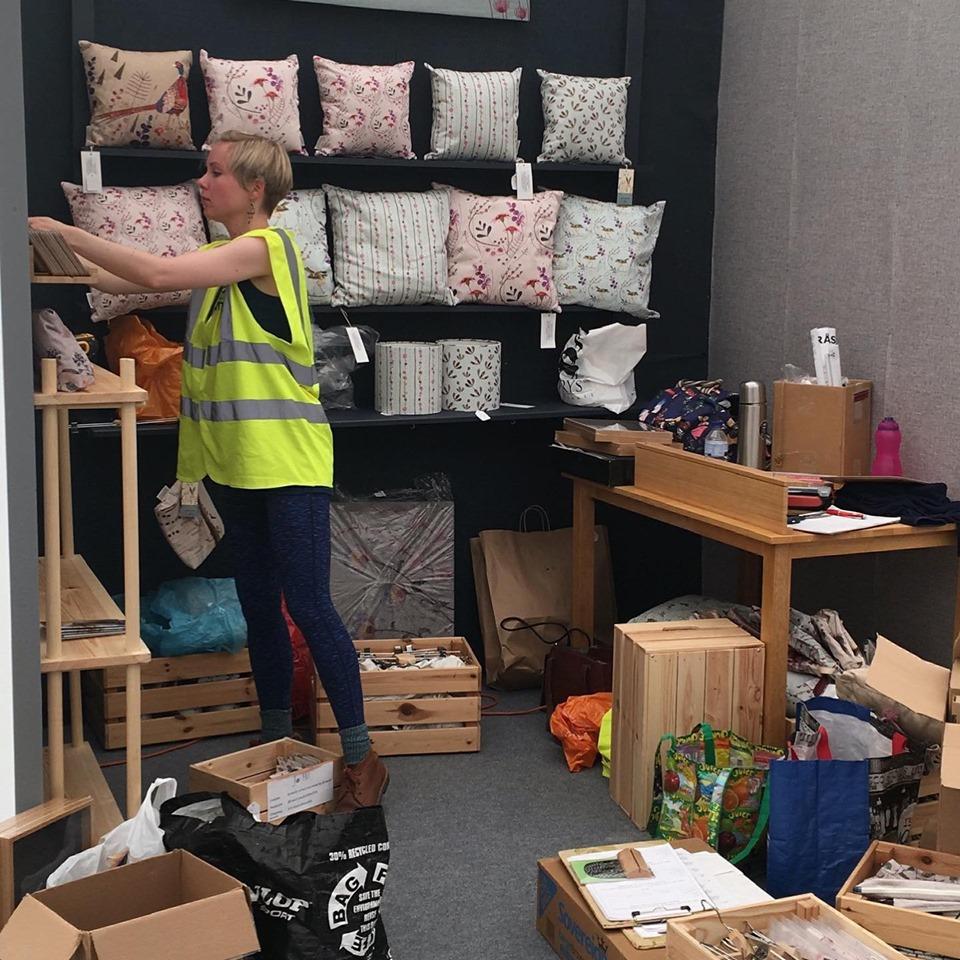 It's a day's work setting up for shows like these! And each stand we have is a different size and set-up from the previous one so it takes quite a lot of thought and consideration to get the stand looking at its best. We created a backdrop with dark blue fabric and grey wallpaper. The shelves are all handmade by Jo's husband (we are so lucky he has these great skills) and the table is from a charity shop. Hi-vis vests are obligatory and not next year's fashion trend!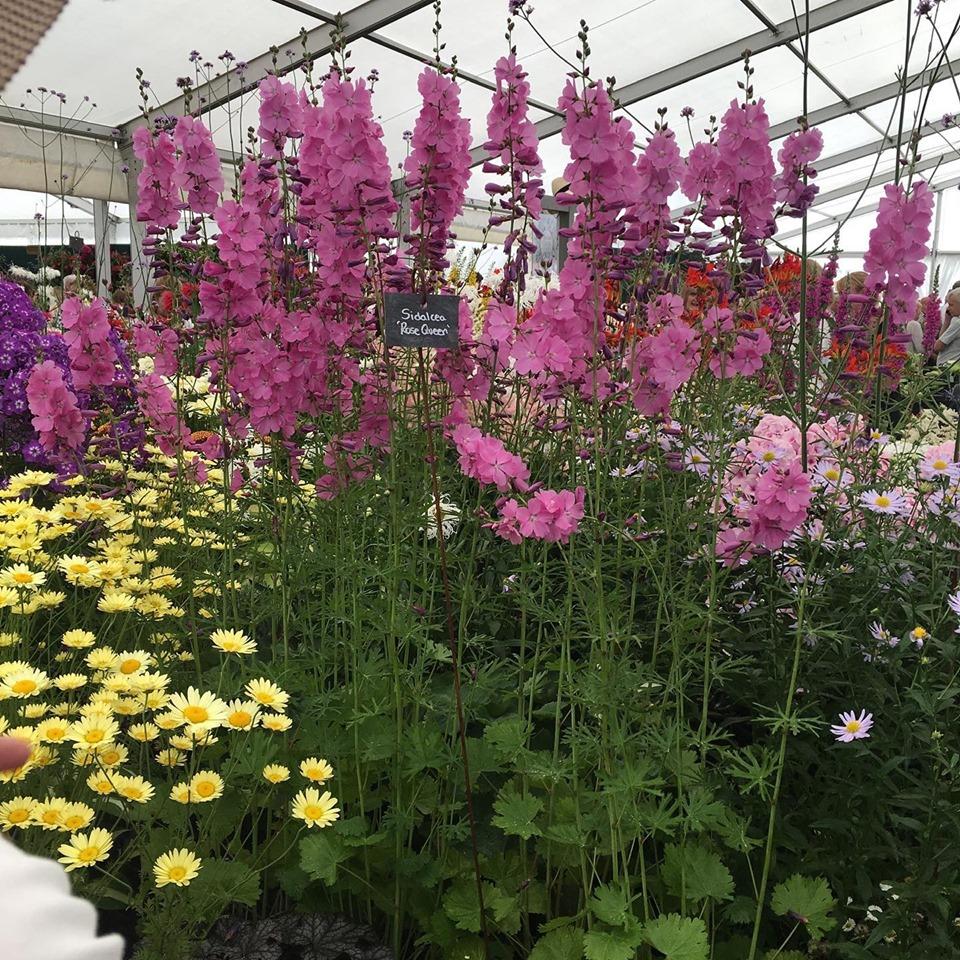 Inspiration everywhere! It's such a delightful day out with gorgeous flowers and unique garden designs.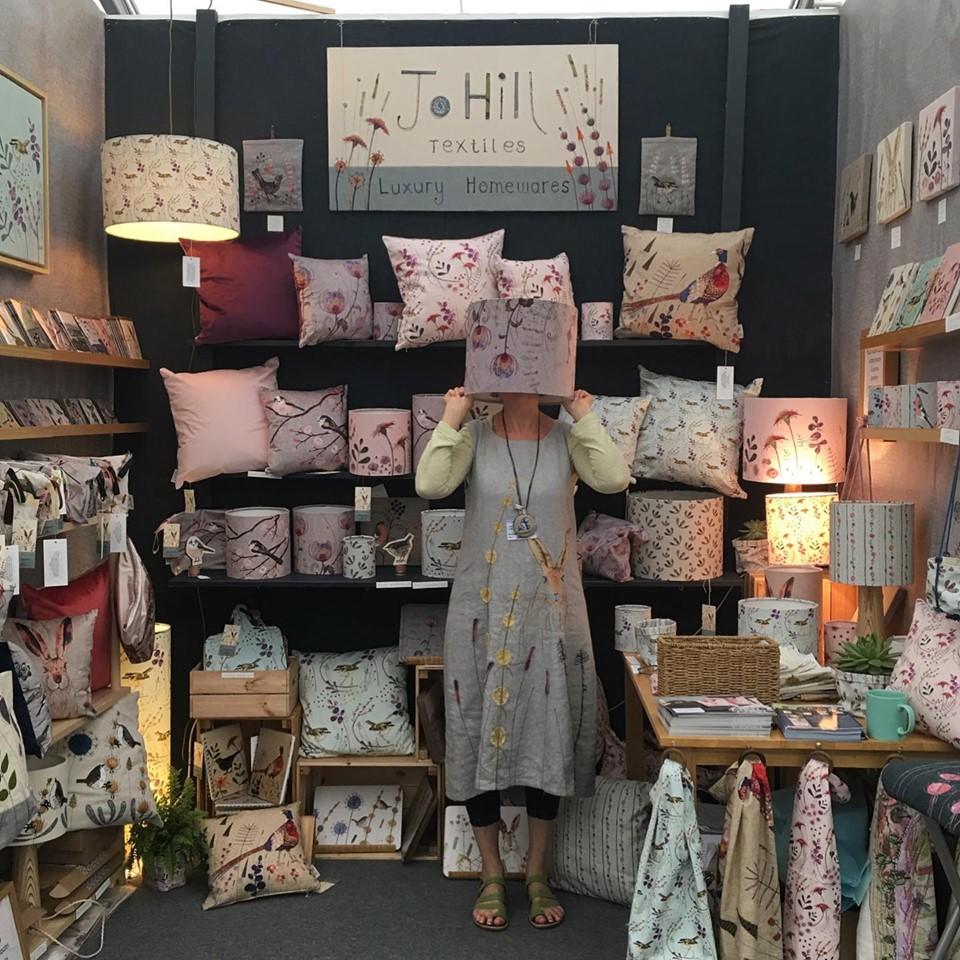 A five-day event can be so tiring... Jo is just having a quick nap on a quiet afternoon!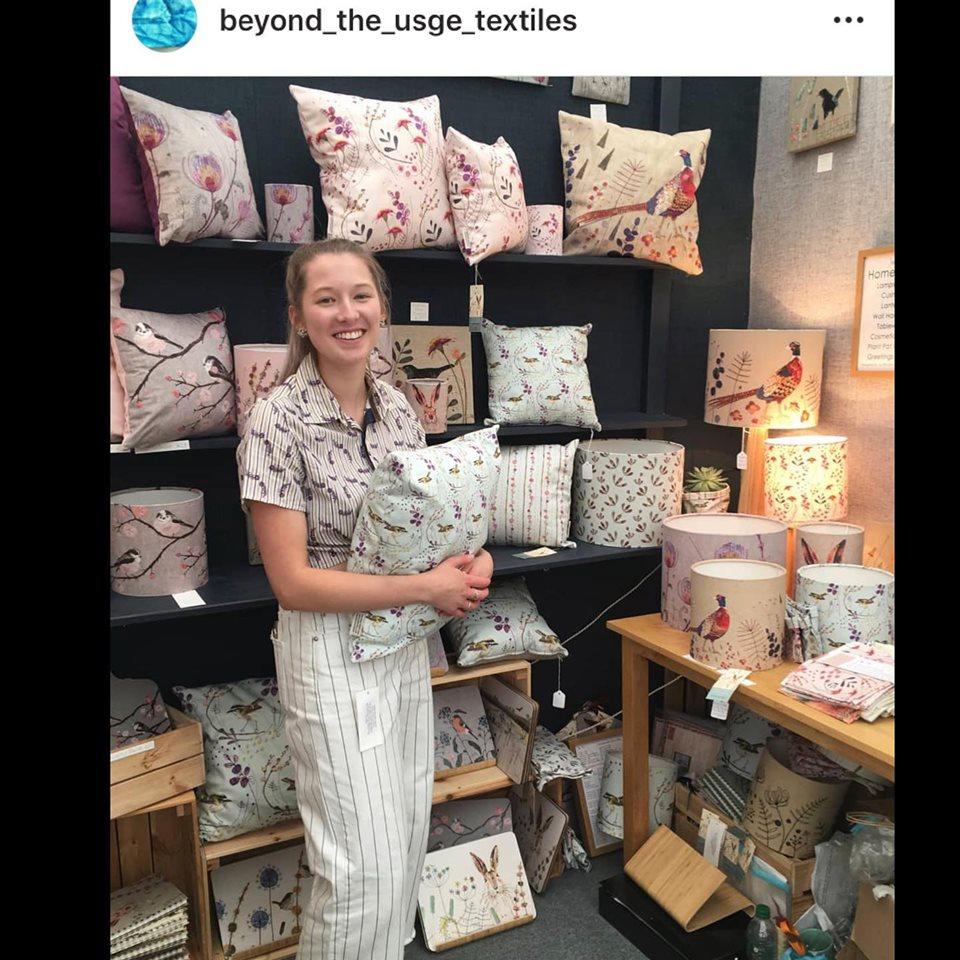 We were lucky to be joined by our previous work experience student, Scarlett, on the Saturday who generously gave up her time to come and help us out.

Festival of Quilts - August
Wow, this festival is huge! The name might suggest it's just about quilts, but all textile and sewing genres are covered here. Of course, there is the amazing exhibition of quilts which is definitely worth visiting in its own right.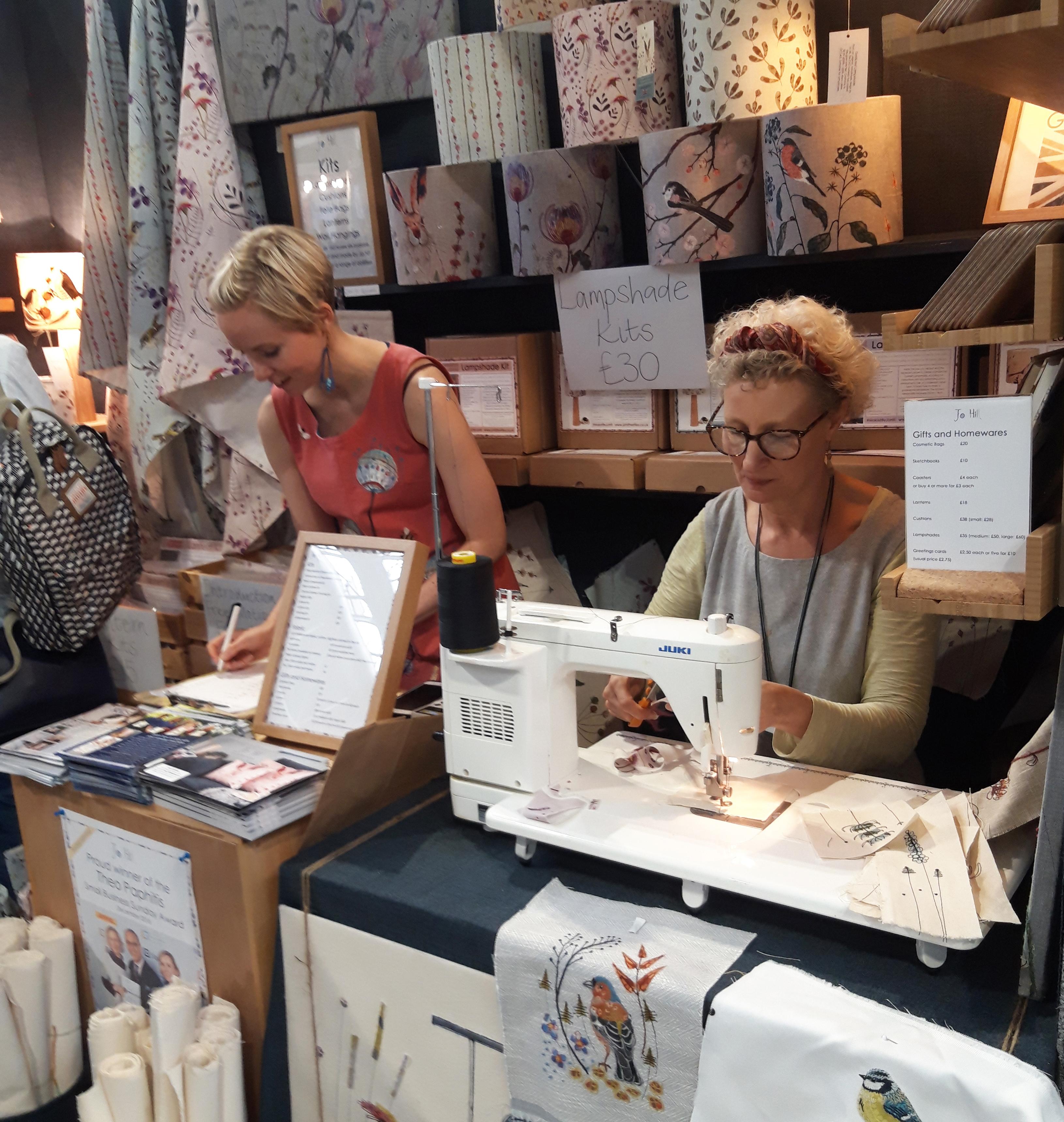 We found the festival to be busy and well-attended. The NEC is a good venue and Jo spent many hours stitching samples on her sewing machine which visitors loved! We made a great team in our cosy little space. It would be a dream to have a bigger stand to showcase every item that we have for sale but it's definitely a balancing act in having a presence there, but also the necessity to make back the (often very high) cost of the stand.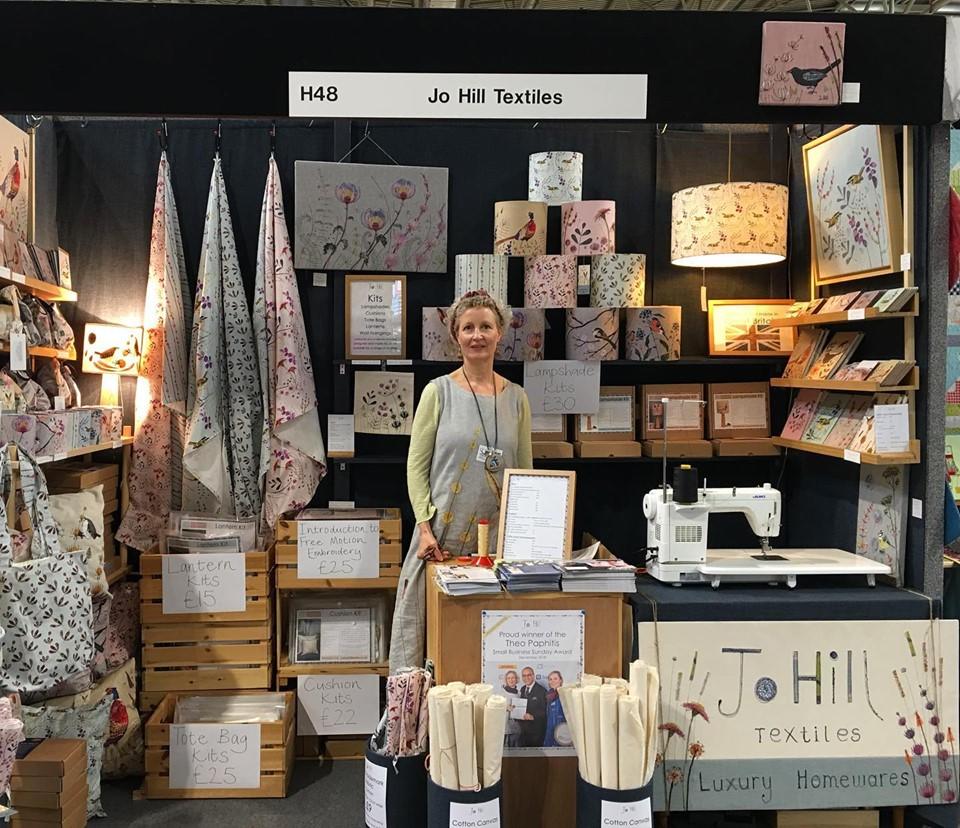 Kits, especially the free motion embroidery kits, were the most popular at this event. And our lovely cotton canvas flew out too! The Festival of Quilts attracts visitors who have a love of being creative - not just quilting, but dressmaking, textile art and many other crafts too. Hopefully this year a new group of people are now becoming hooked on the exciting art of free motion embroidery with our beautiful kits.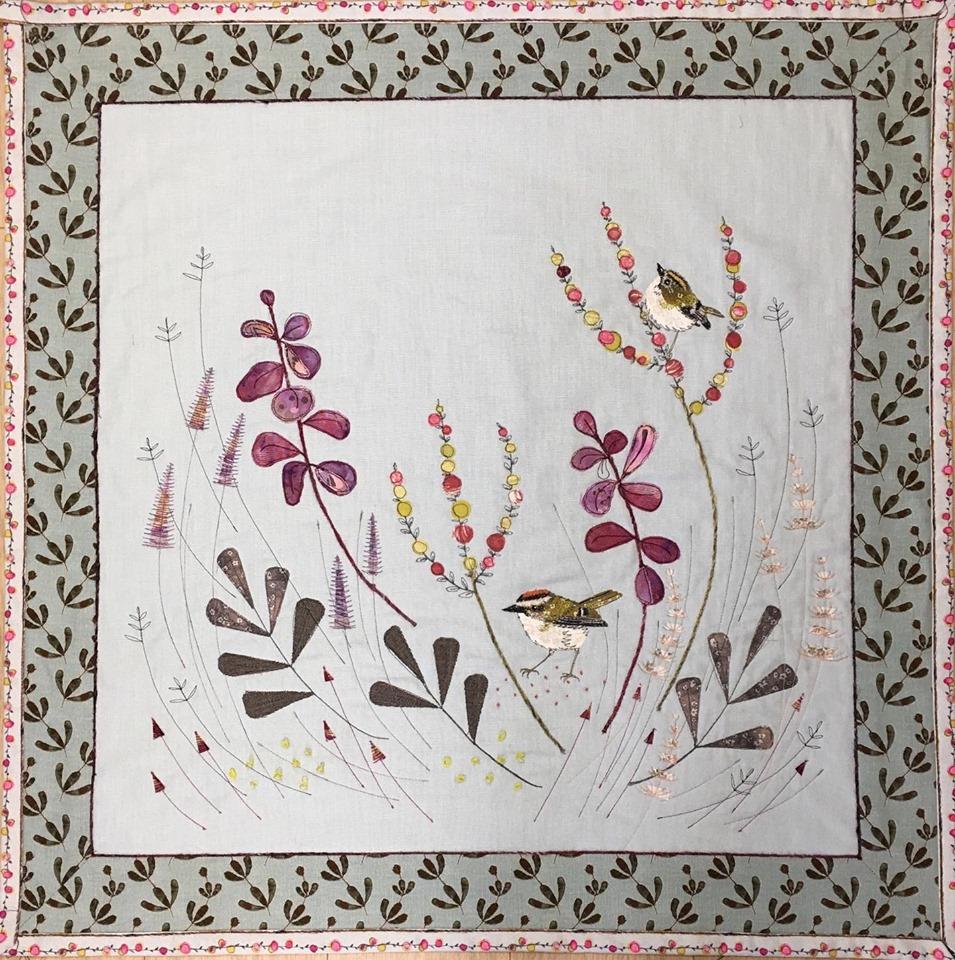 Here's Jo's Goldcrest quilt she made to enter into the exhibition. The main design was created using free motion embroidery and appliqué, whilst the two borders are Jo's signature fabric design, the motifs of which were mostly taken from her original Goldcrest embroidery. Clever!

Handmade Festival - September
We travelled to Hampton Court Palace for this three-day event. It was packed with stands selling lots of kits and materials for creatives - including sewing, knitting and cooking. We also found an amazing Air BnB to stay in which was very welcome after a long day at the festival.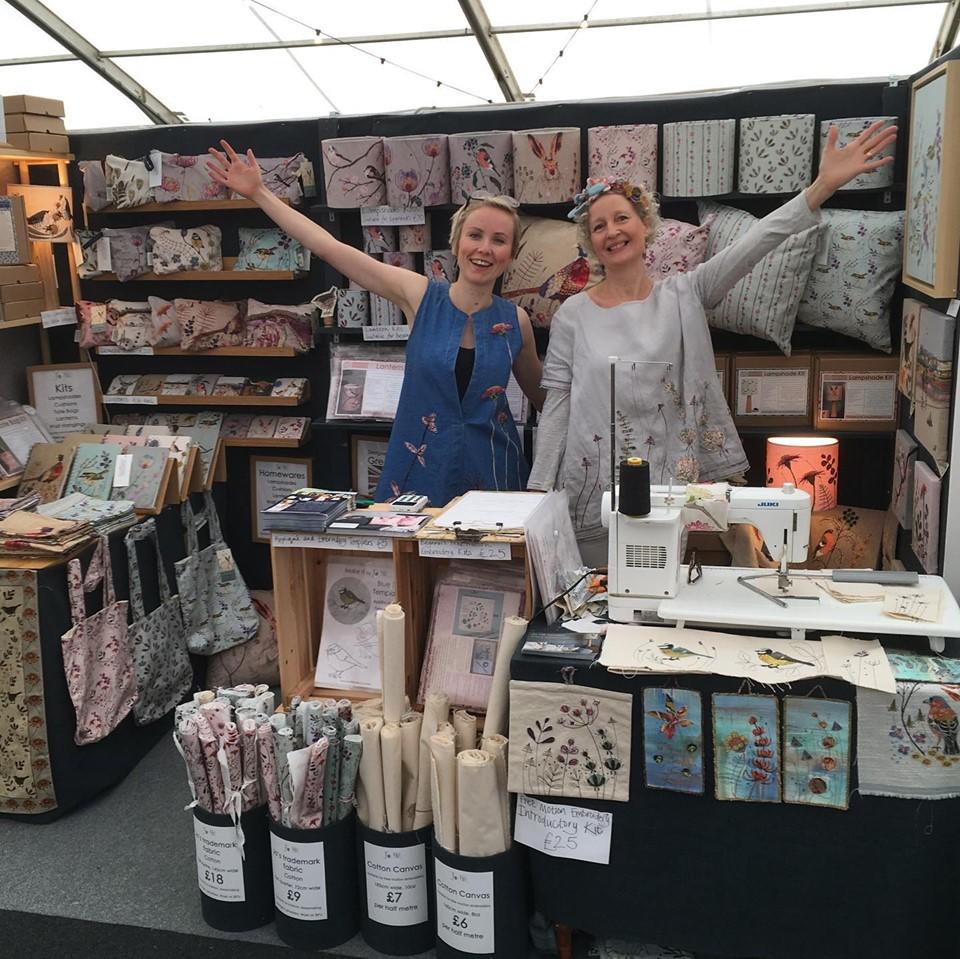 Again, visitors were intrigued by Jo's free motion embroidery demonstrations, and lots of kits went to their new homes. If you bought one, we hope you're enjoying your free motion embroidery experience!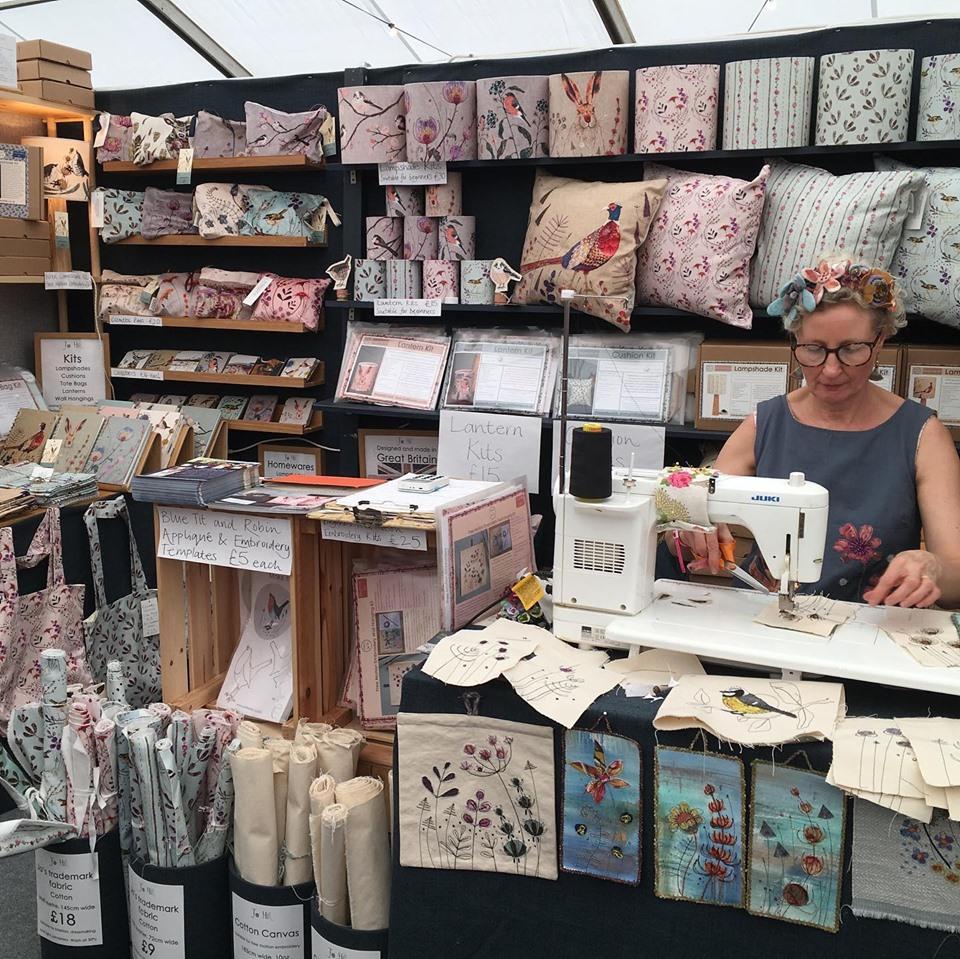 The Handmade Festival is in association with Kirstie Allsopp and it celebrates those who love to be creative. We did see Kirstie - but only at a distance! The weather was glorious over the weekend and we met so many other lovely creatives doing amazing things with wood, wool, metal and clay!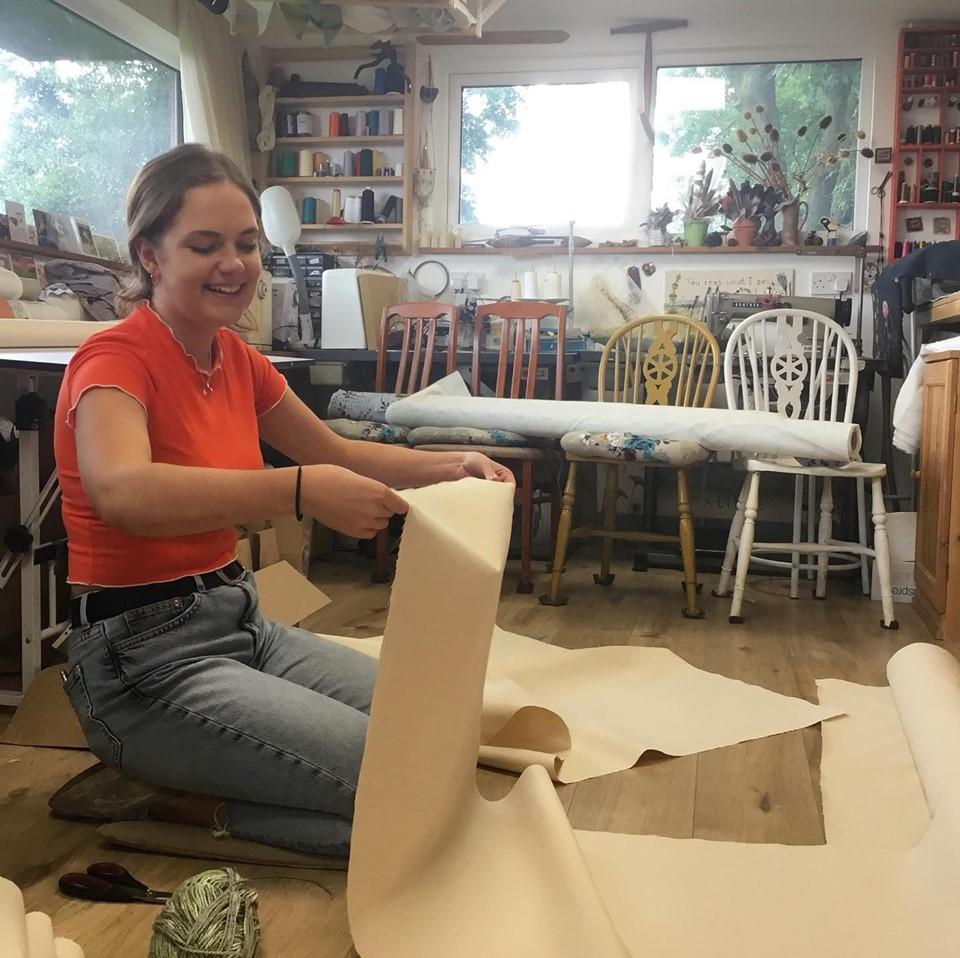 There is so much preparation involved in doing the shows. Often, it could be 2-3 days' work, plus at least a morning packing up two cars which is like trying to complete a complex 3D jigsaw puzzle, but without knowing how it's supposed to look! Here is Poppy, who joined us over the summer for work experience. It was really great having such a capable extra pair of hands during this busy time. Poppy is cutting out and rolling up the cotton canvas. Although she spent many hours of measuring and cutting, we still sold out of all of our canvas!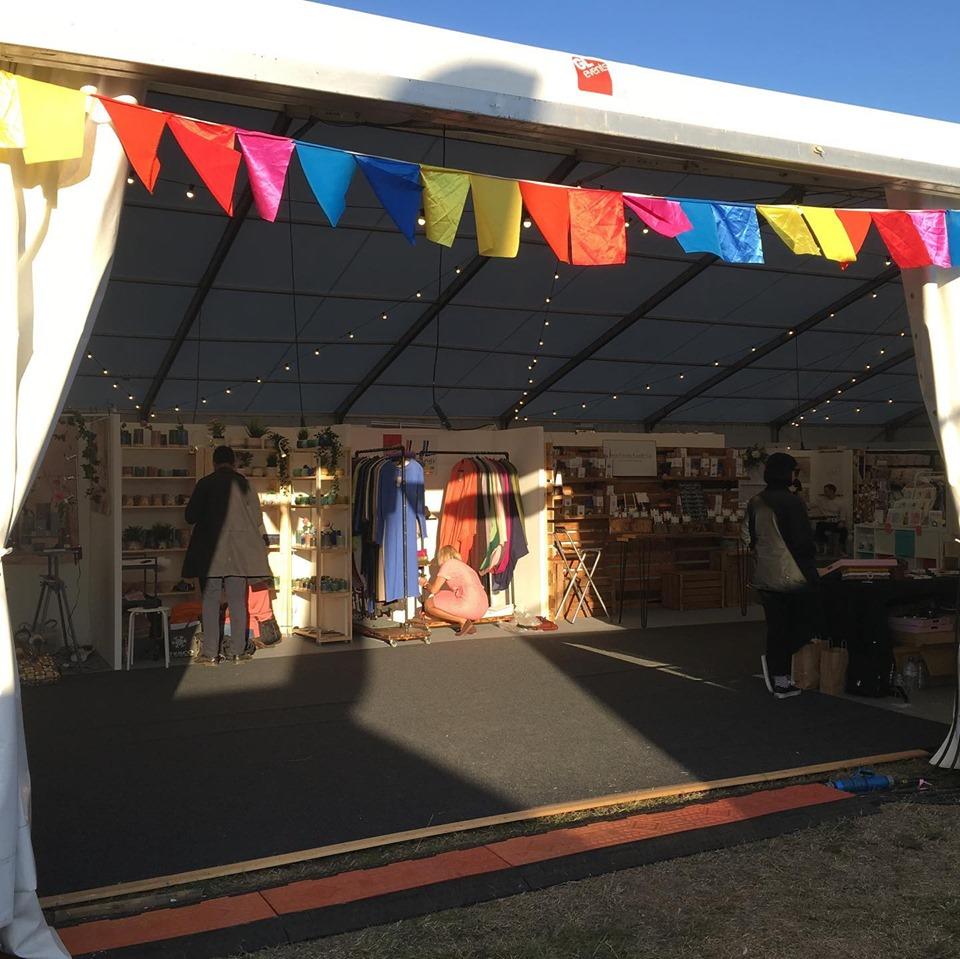 The September sunshine streams into the marquee towards the end of another day at the Handmade Festival.

We had a great summer. Did you miss us? We always love to get out and about at different shows and festivals. Keep an eye on the Events page for up-to-date information on where you can see us. Show and festival recommendations are always welcome, too!