I am a professional textile artist, designer-maker and tutor.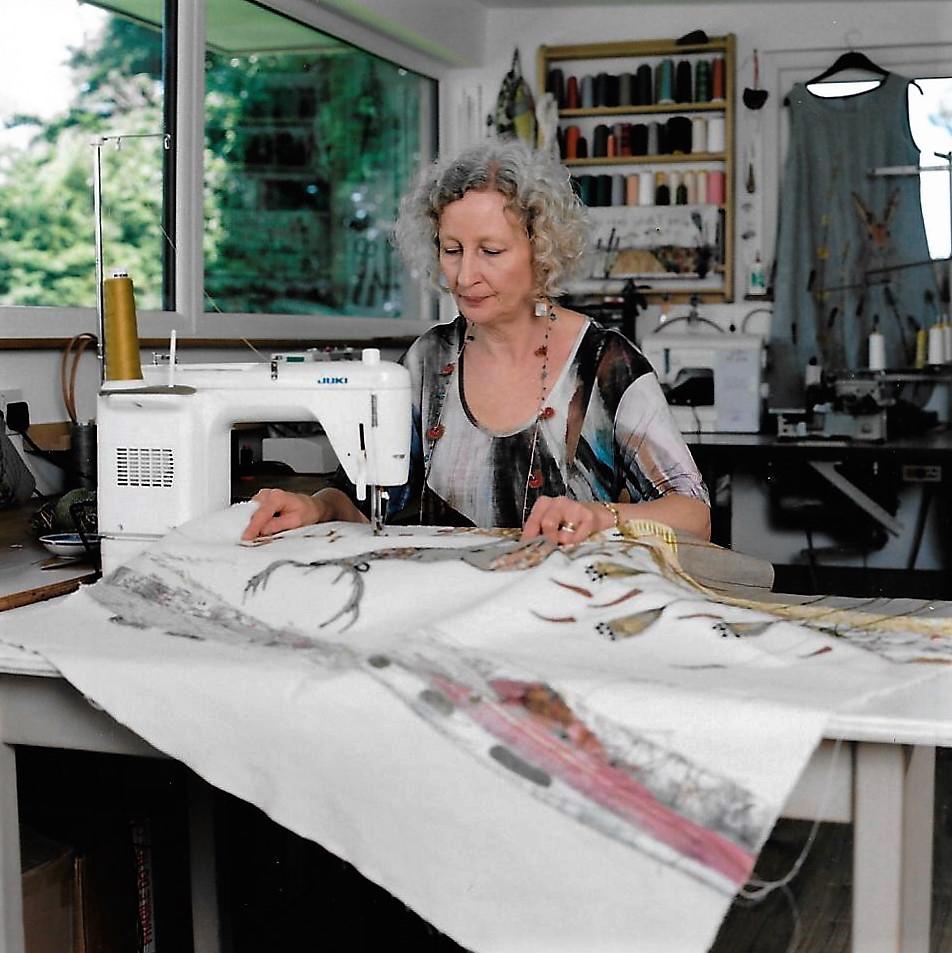 I create original textile art inspired by my environment, evoking the beautiful colours of the countryside. Combining hand-dyed fabrics and free motion embroidery, I use the sewing machine to 'draw' the details of the design, bringing the piece to life.
The Design Process
Colour, texture and pattern are central to my design process. Every piece of work is unique due to the variations in the materials and techniques that I use. The colour palette of my signature style is muted and sophisticated, I hand-dye many of my fabrics to achieve the perfect colour. I work intuitively and audition fabrics in a layering process to build up a design. Fine, detailed stitching allows me to really explore the wonderful year-round details that the countryside displays.
My finely-developed style uses raw edged appliqué and free-motion embroidery, a technique that I have really refined over the years. I use the sewing machine to 'draw' the details of texture and pattern with thread to bring the piece to life. I also use machine embroidery to create texture and hand stitch to add another dimension.
I am proud to say that all of my original textiles are handmade by me in Great Britain with love, joy and lots of passion!
"We are incredibly lucky to be surrounded by so much nature and I want to invite you to share a little piece of it in your own home, interpreted with sumptuous fabrics and delicate stitching in my own unique style."
I love beautiful natural fibres, cottons, linens, flax and wool, I am buying less new fabric and trying to recycle and repurpose whenever possible.
All of the work you can see on this website is available to buy - either for yourself or as a gift.
To see a list of galleries that stock my work, please have a look at this page.
My Textile History
Sewing is my absolute passion and I began by making little outfits for my teddy at the age of about five. However, at age 13, my sewing teacher indicated that I was not even worth entering in for a qualification! That was fine by me as I did not feel inspired to make a drab, boring apron for the exam anyway and I have never been one to stay 'within the lines', much preferring to run away with my own creative enthusiasm!
During my degree in Textile Design I won several design awards and later went on to sell my woven creations to Habitat.
I have City & Guilds qualifications in machine embroidery, fabric dyeing, paper making, interior design, soft furnishings and printing. All of them taken at evening class in Stafford.
I am proud to say that I have been a member of Gallery at 12, an artists' co-operative and gallery in Eccleshall, Staffordshire since 2009.
I was accepted as a member of Midlands Textile Forum in July 2021 but have now left as I have moved house to near Bath.
Once you've signed up you will need to verify your email address so please look out for another email from me! Occasionally, these emails can end up in your junk/spam folder, so please check there if you don't receive anything.
Never miss a Jo Hill newsletter! Please make sure you add me to your contacts list. Here is a handy guide on how to do this.
"My luxury textile pieces are inspired by the beautiful British countryside, in particular its diverse range of wildlife that is so often hiding in amongst the grasses and the trees."