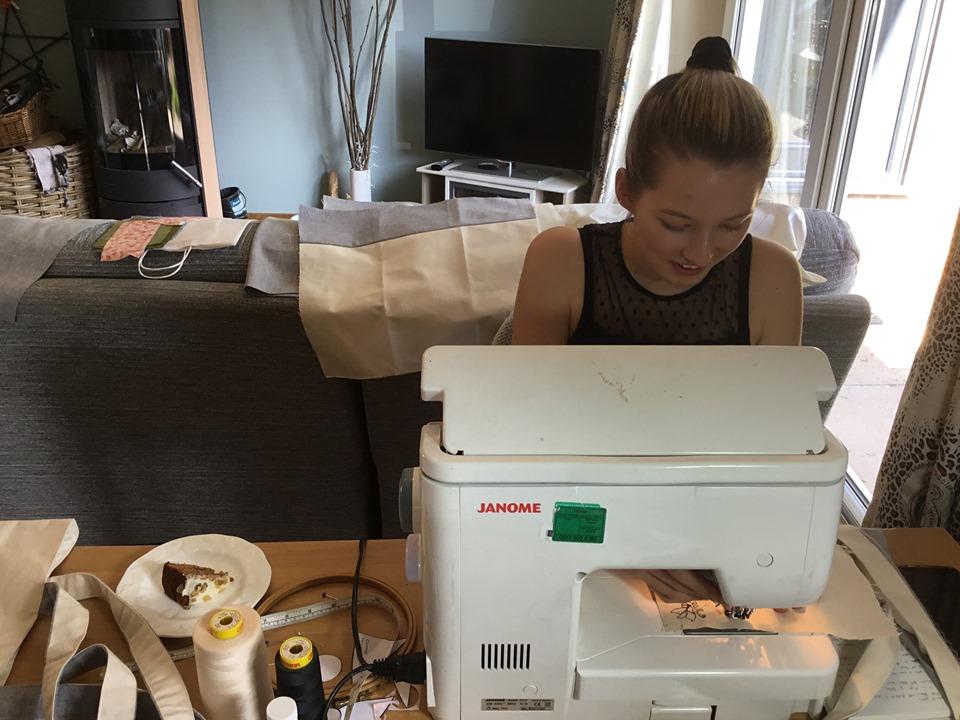 We are lucky enough to be contacted by students from the local area who want to come and work with us as part of their studies. They are interested in learning more about the running of a small business, how Jo creates her designs and generally getting a feel for what life is like on a day-to-day basis at Jo Hill Textiles.
During April and May we were joined by Scarlett who lives in Staffordshire and is studying a Textile Design degree at Birmingham City University. It was a pleasure having Scarlett here and you can read more about her experience, in her own words, here...
How have you found your work placement with Jo Hill Textiles?
It has been such an amazing placement with such valuable experiences, and it was all spent with Jo and Lydia who are such lovely people, who have took me under their wings and given me responsibilities in the business and tasks that needed to be done so that I always felt productive. I have really felt that the work I have been doing has helped the business which has been a really fulfilling feeling!

How long was your placement for?
I have been so very fortunate to be helping around the studio for four whole weeks! When I first emailed them asking about a possible work placement I felt so lucky that I had got a response off them, let alone being given this amazing opportunity of being involved in their textile design business everyday!
Tell us what you've been doing on a day-to-day basis?
All three of us have gotten on so well and I have been excited for everyday..one minute I'm uploading Jo's products to their Folksy account for them and the next me and Jo are rolling up a lampshade together! It has literally been a "top tip a day" with Jo, I have learnt so much! They gave me a Wren notebook on my first day and it is now full of notes and top tips on all things textiles! We've discussed, contemplated together, brainstormed, bounced our ideas off one another!

What have been the highlights of your stay with us?
I've been down to the Guildhall Gallery - Art & Coffee on Mill Street [Stafford] and Gallery at 12 [Eccleshall] restocking Jo's beautiful textile products; I have seen the start and finish process of the photoshoot of all Jo's new up and coming designs as well as the whole process of when an order comes in and what has to happen before sending it off, and all the personal touches that Jo Hill Textiles goes to the effort of doing to make each order unique and meaningful to each customer. I've been involved in the amazing workshops Jo runs where people can learn to design like Jo! I have kept the Instagram account and online presence active which was such a great opportunity.
What have you learnt that you'll now take back to university with you?

This work placement has given me such a big insight into how a textile design business runs and all the factors that come into it and all the tasks that need doing each day, which has all been extremely useful to know and experience; it has made me appreciate Jo's hard work creating her unique handmade designs even more than I already did!

All I have is good words to say about Jo Hill Textiles, just thank you so much to Jo and Lydia for taking me on and putting in so much time and effort to giving me the most valuable and enjoyable experience!

Scarlett x
Scarlett is on Instagram at @beyond_the_usge_textiles - follow her textile design journey!