Mother's Day is on Sunday 22nd March in the UK this year (and Sunday 10th May in the USA). Treat the mum in your life to something special, unique and made in Britain!
Choose from gifts for the home such as cushions, tableware and unique lampshades. Or if your mum is the creative type, why not choose a sewing kit for her to make something beautiful? Don't forget that we offer free UK postage with all orders over £50 - no code needed.
Gifts under £10
Coasters make lovely little gifts and prices start from £4. Mix and match any four designs for £14. They are cork backed with a sustainably sourced eucalyptus board base, and have a full melamine surface which is able to withstand temperatures of up to 145 degrees.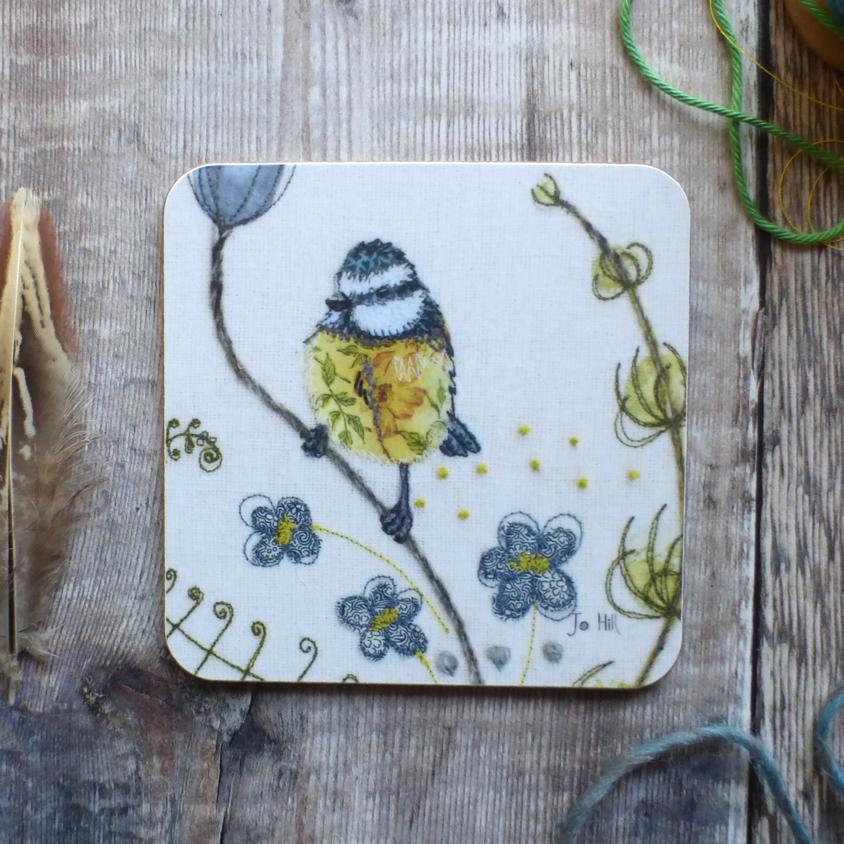 Turn your set of coasters into a full table set with our lovely range of placemats. All designs match the coasters, so you could select a range of your favourite designs for a beautifully designed table. £10 each.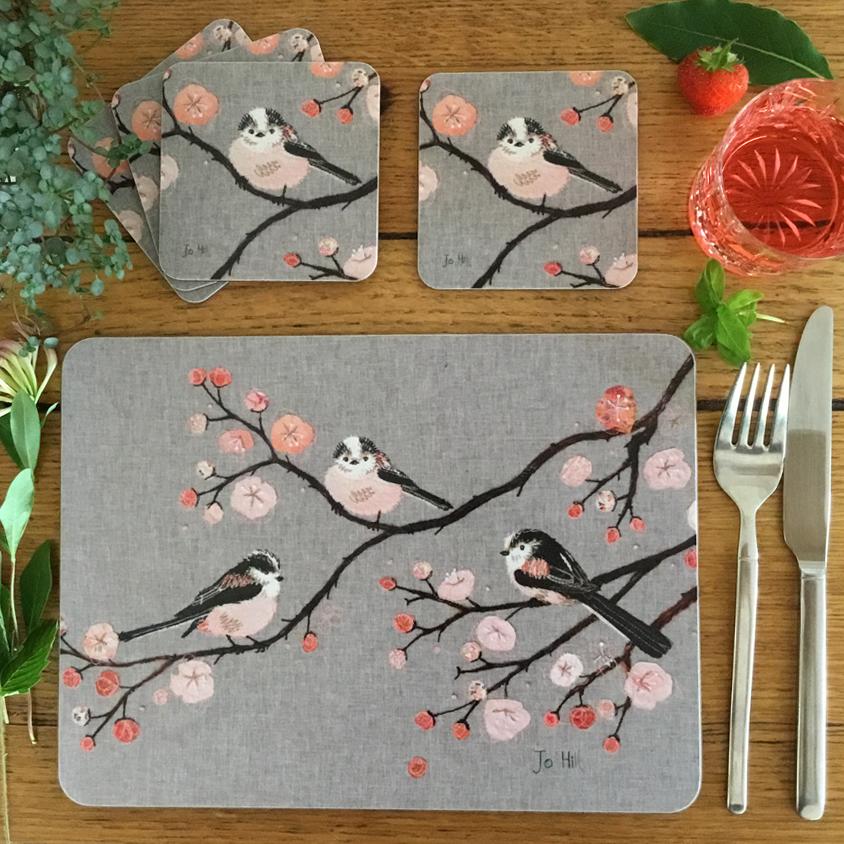 Feeling creative? Use one of our three templates to create something unique for your mum. Choose from robin, blue tit and finch and create anything you like including a cushion, glasses case or bespoke piece of clothing for only £5.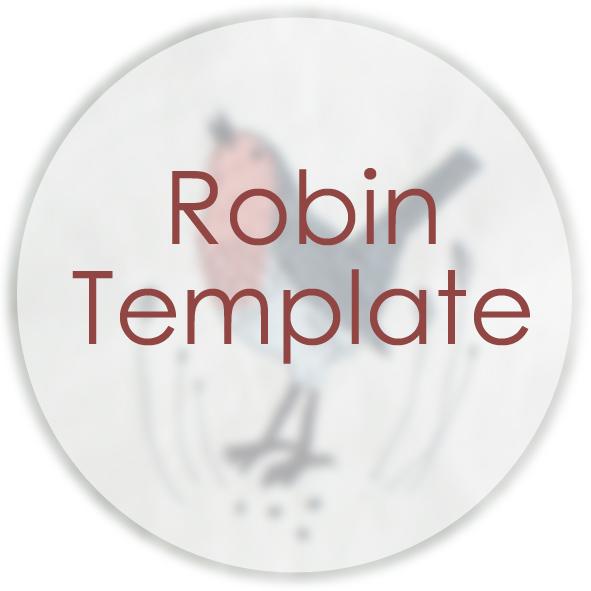 Doodle, journal, scrapbook or sketch - this lovely ringbound book is A5 size with 35 leaves of 150gsm acid-free archival grade cartridge paper. The cartridge paper is ideal for sketching in pencil, charcoal, coloured chalk or ink, or for scrapbooking and has a harback cover. £10 each.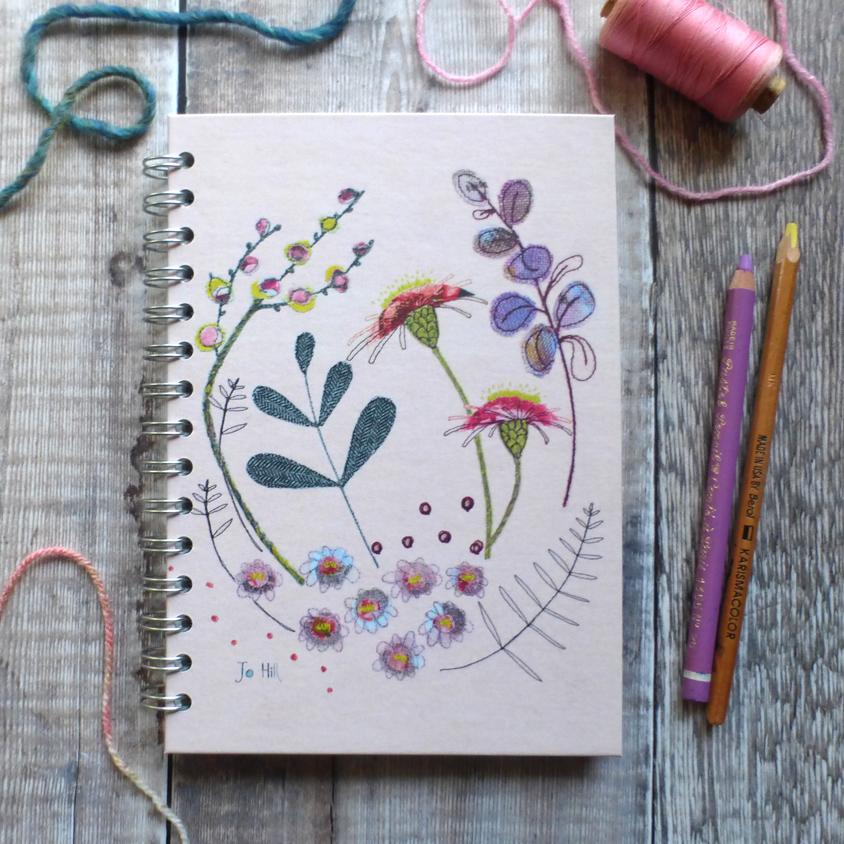 Gifts under £20
There are lots of lovely cushions to choose from in our range. Choose soft velvet or crisp cotton with designs including the Goldcrest (below), Bullfinch and Hare. The small cushion is a lovely size for gifting at 33cm x 33cm and is £20.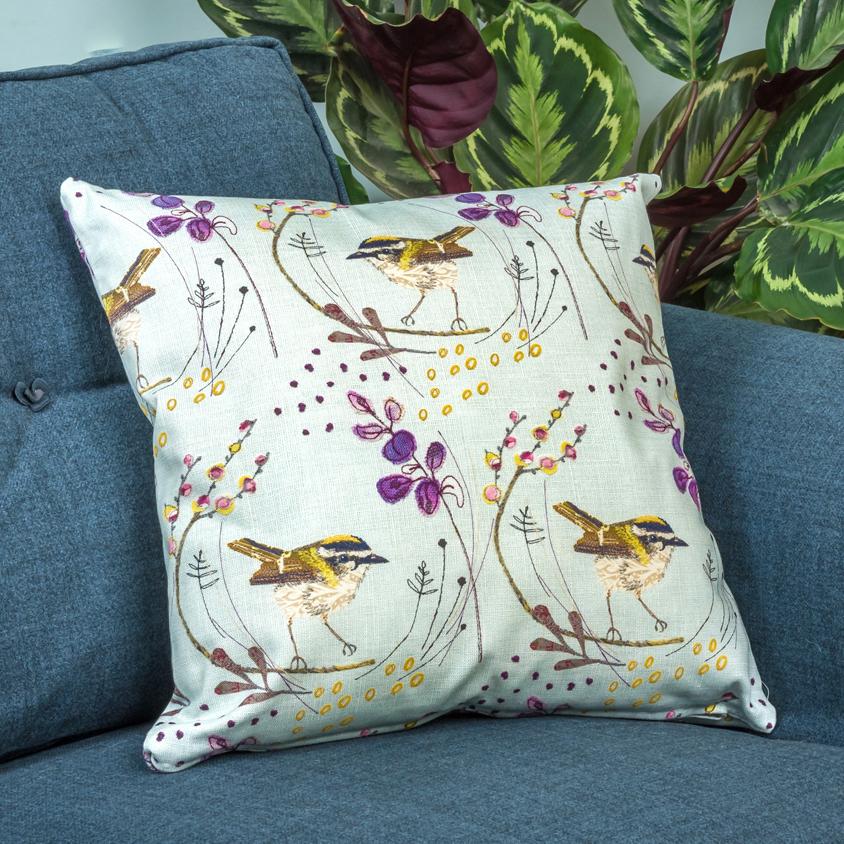 Cosmetic bags can be used for anything, not just your make up - they are the perfect size for a pencil case, or a project bag or for your jewellery when you go on holiday. Each bag is made by Jo in her garden studio and come in a range of fabulous designs taken from Jo's original embroideries. They are fully lined, with a zip and hanging loop and are £20 each.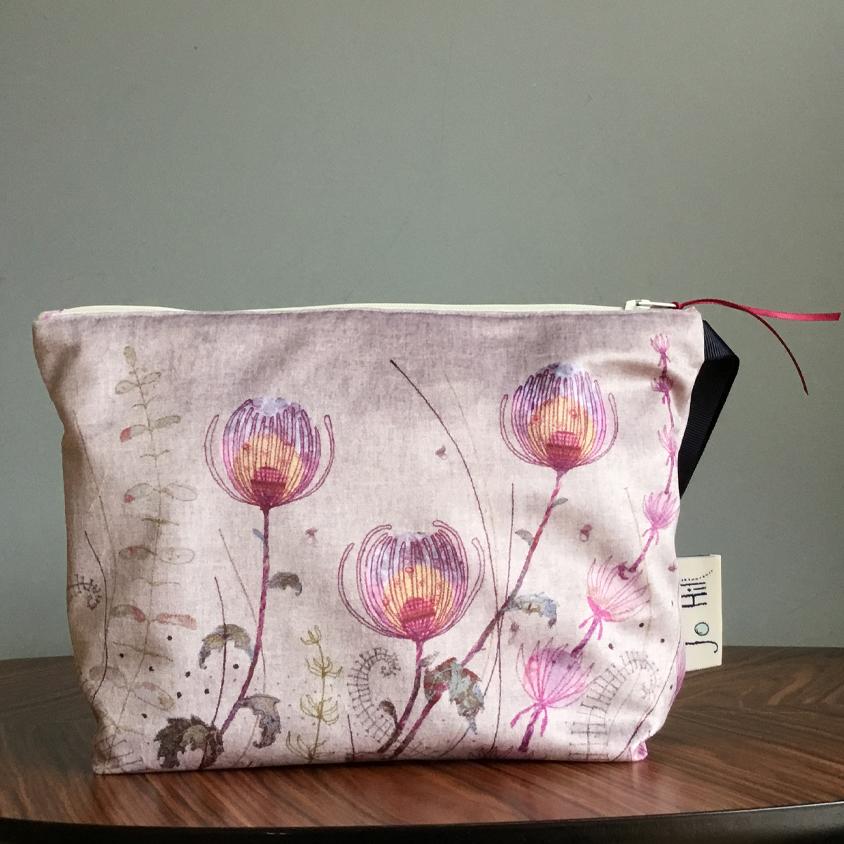 Our chopping boards are 100% food safe certified and have a full melamine surface. They measure 25cm across and 36cm high, and are 4.8mm thick. Perfect for chopping sweet treats or serving your favourite cheeses. £18 each.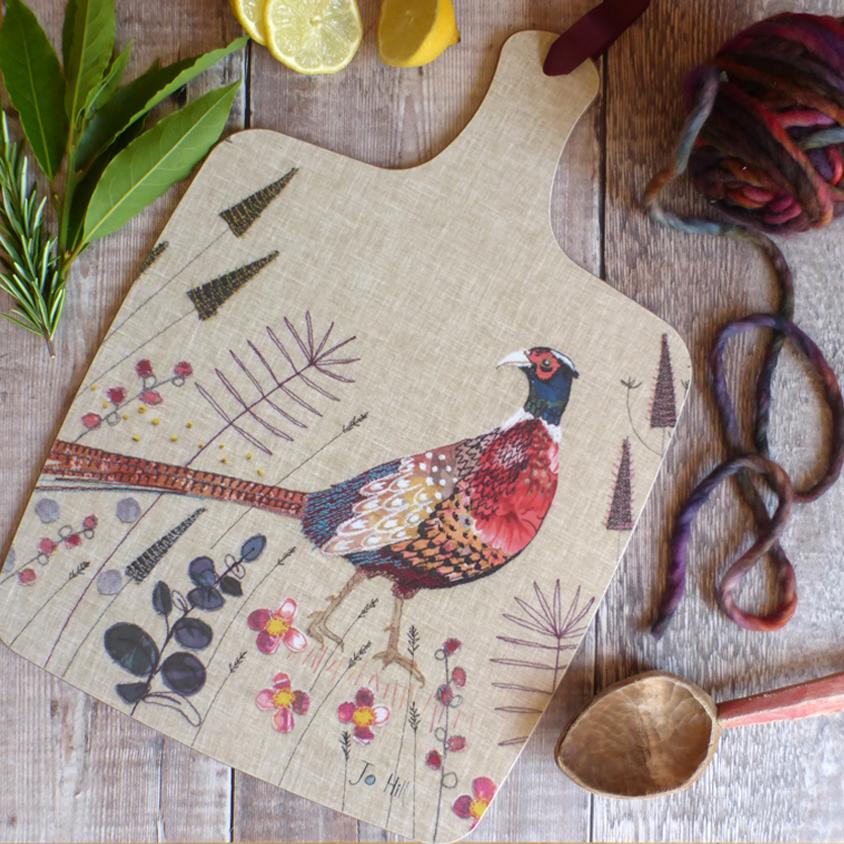 We have an ever-growing range of fabric including these very useful small panels, ideal for cutting out and creating your own design in any way you like. The bird and flower motifs are all digitally printed onto 100% cotton fabric and are ready for you to create a cushion, lampshade or to add some interest to an existing piece of clothing. You can attach them to your project using Bondaweb, then add unique detail in stitch. Prices start from £10.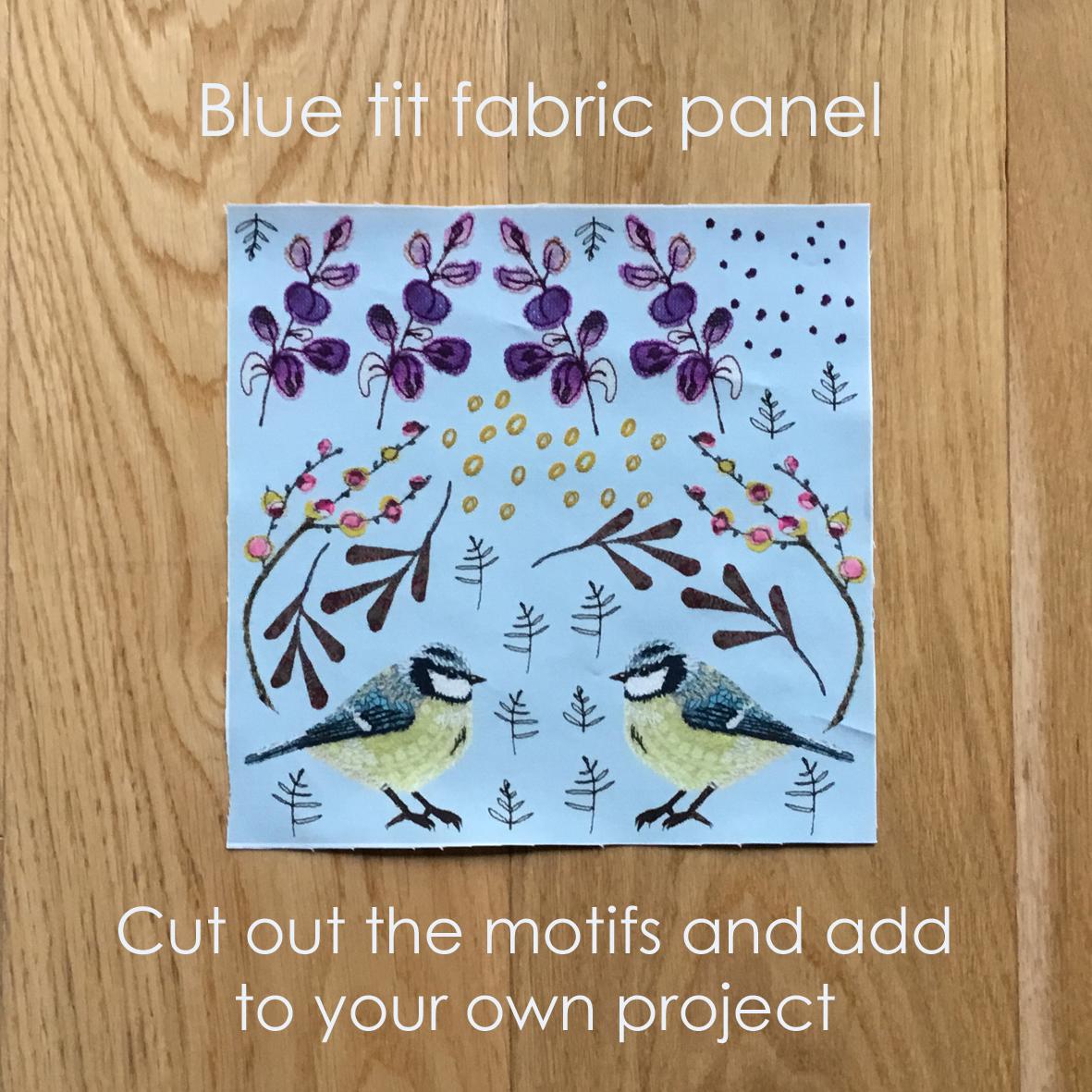 Lanterns with tea lights produce a lovely glow for any room in the home. You can have one made for you by Jo for £18, or have a go at making one yourself with our range of kits for just £15. Please use a battery-operated tealight only!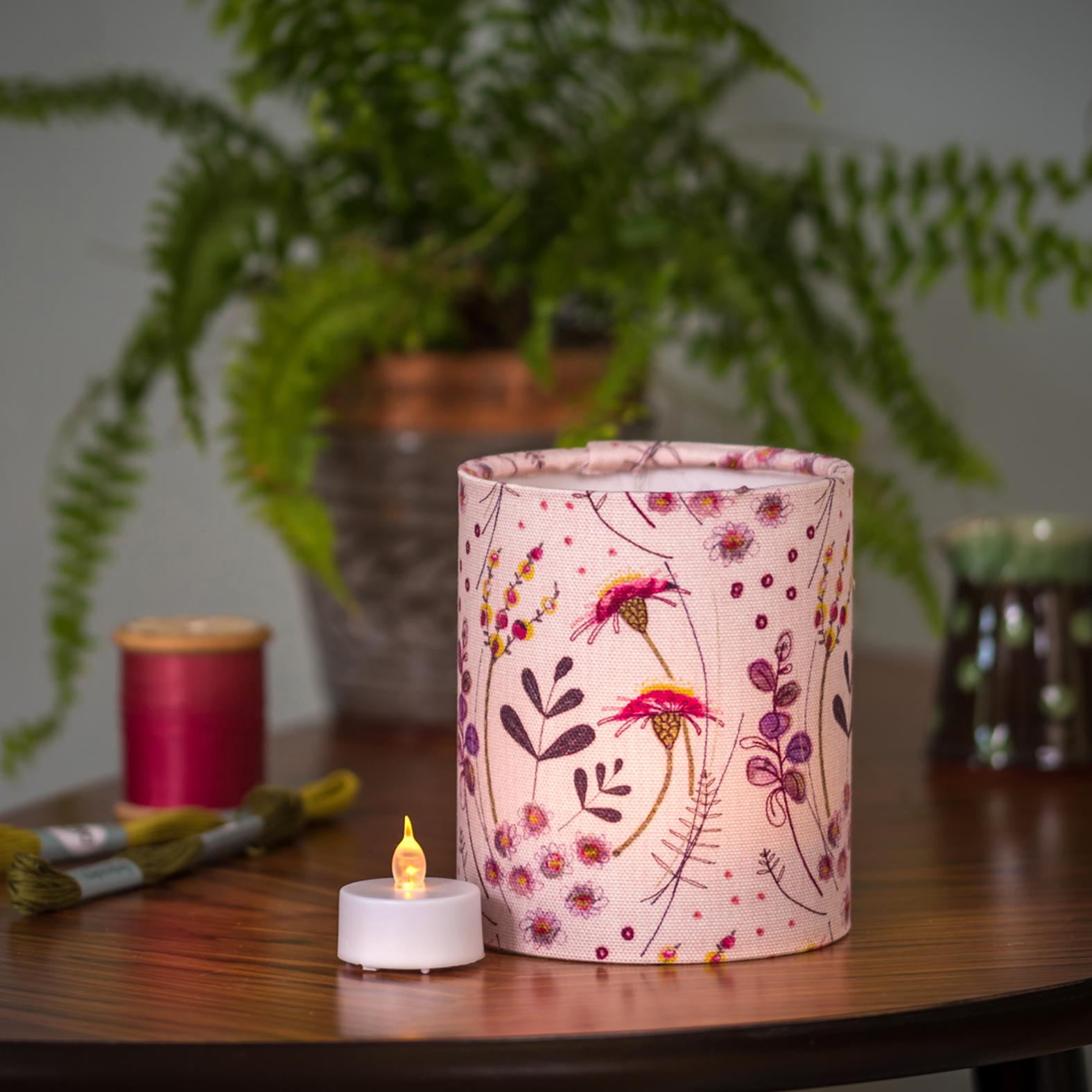 Gifts under £30
Lampshades start from £30 and come in a range of fantastic designs, perfect for creating a focal point in your room. They are all designed by Jo on her sewing machine and printed onto either cotton or velvet. They look just as good in daylight as they do when they're lighting up your home in the evening.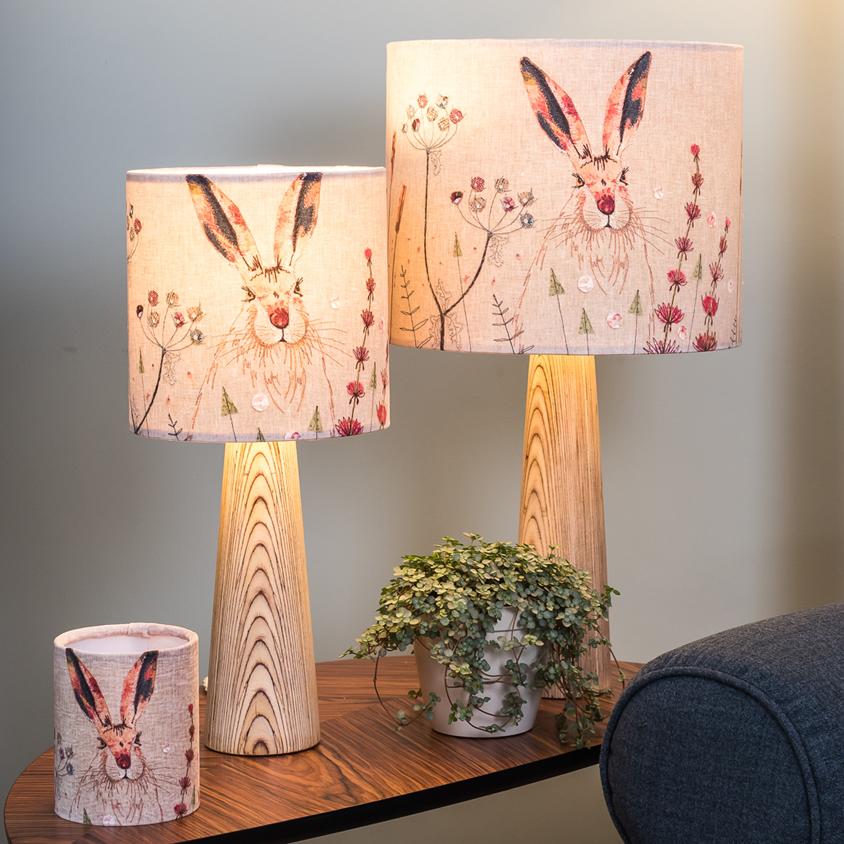 If your mum likes to sew and wants to learn the exciting technique of free motion embroidery, this would be the ideal kit for her to start with. Inside the pack are 5 pieces of cotton canvas which is really easy to sew on, full instructions plus Jo's bespoke fabrics to arrange in any design - or be guided by the enclosed template. Give the gift of learning a new skill for just £25!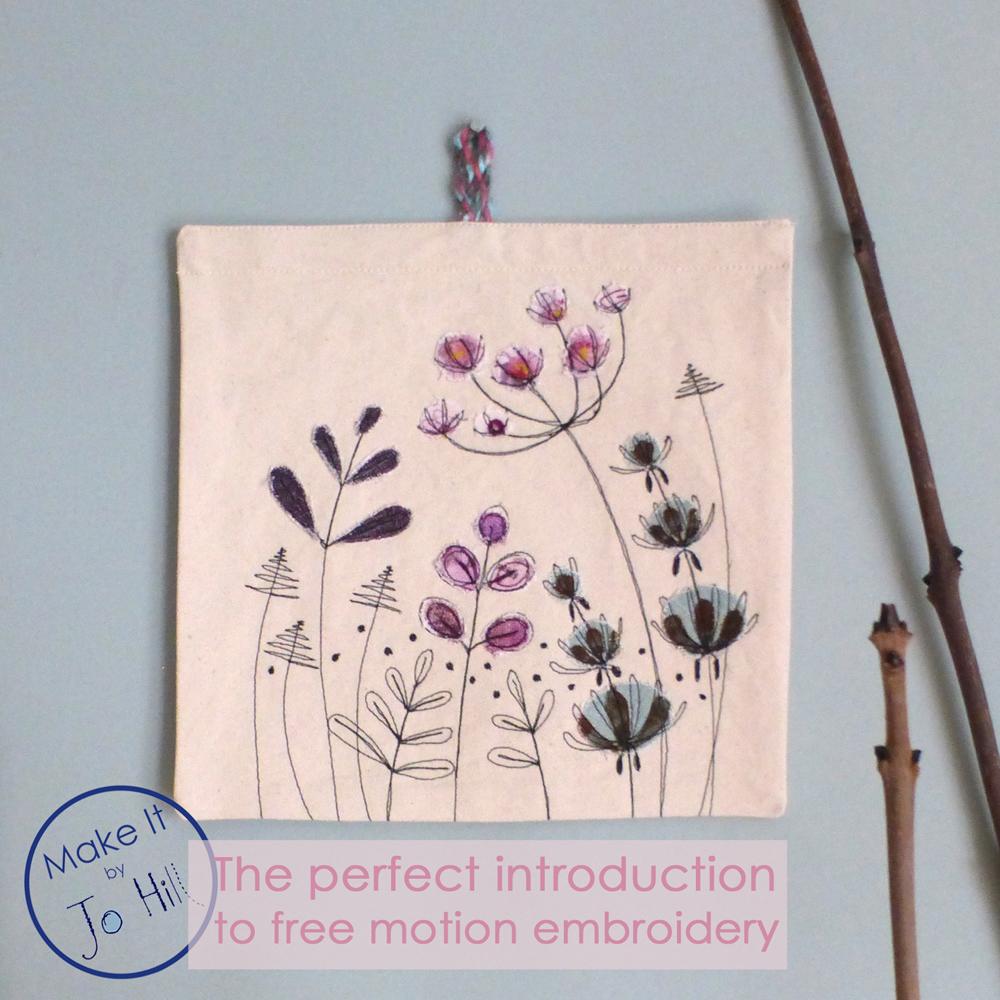 Make something practical and useful with our range of sewing kits. Use Jo's gorgeous printed designs to create something lovely for you or your home. Learn how to make a cushion or tote bag with this unique range of kits which are suitable for beginners - no experience necessary! Prices start from £22.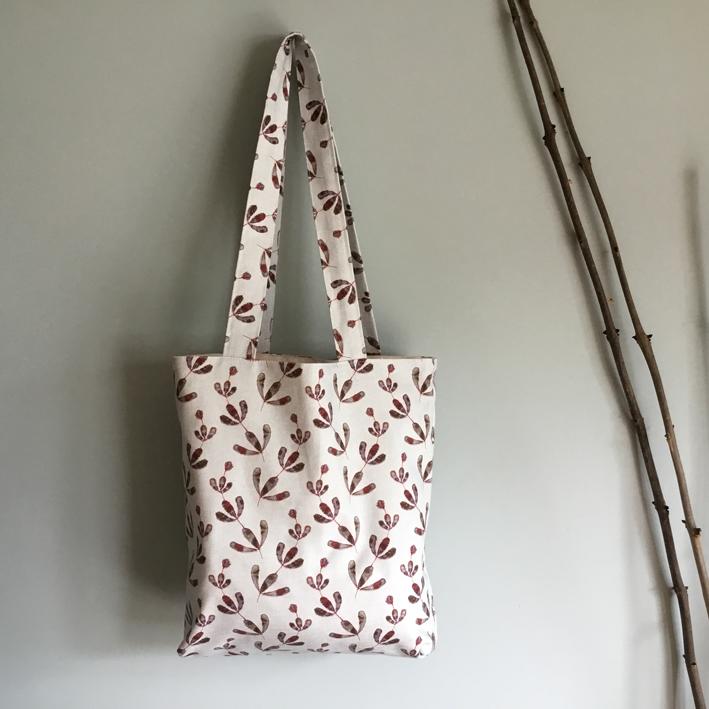 Gifts under £50
The largest lampshade we offer measures 40cm x 30cm and prices start from £50. Since they're made by Jo to order, you can request a slightly bigger or smaller height, depending on what works best with your base.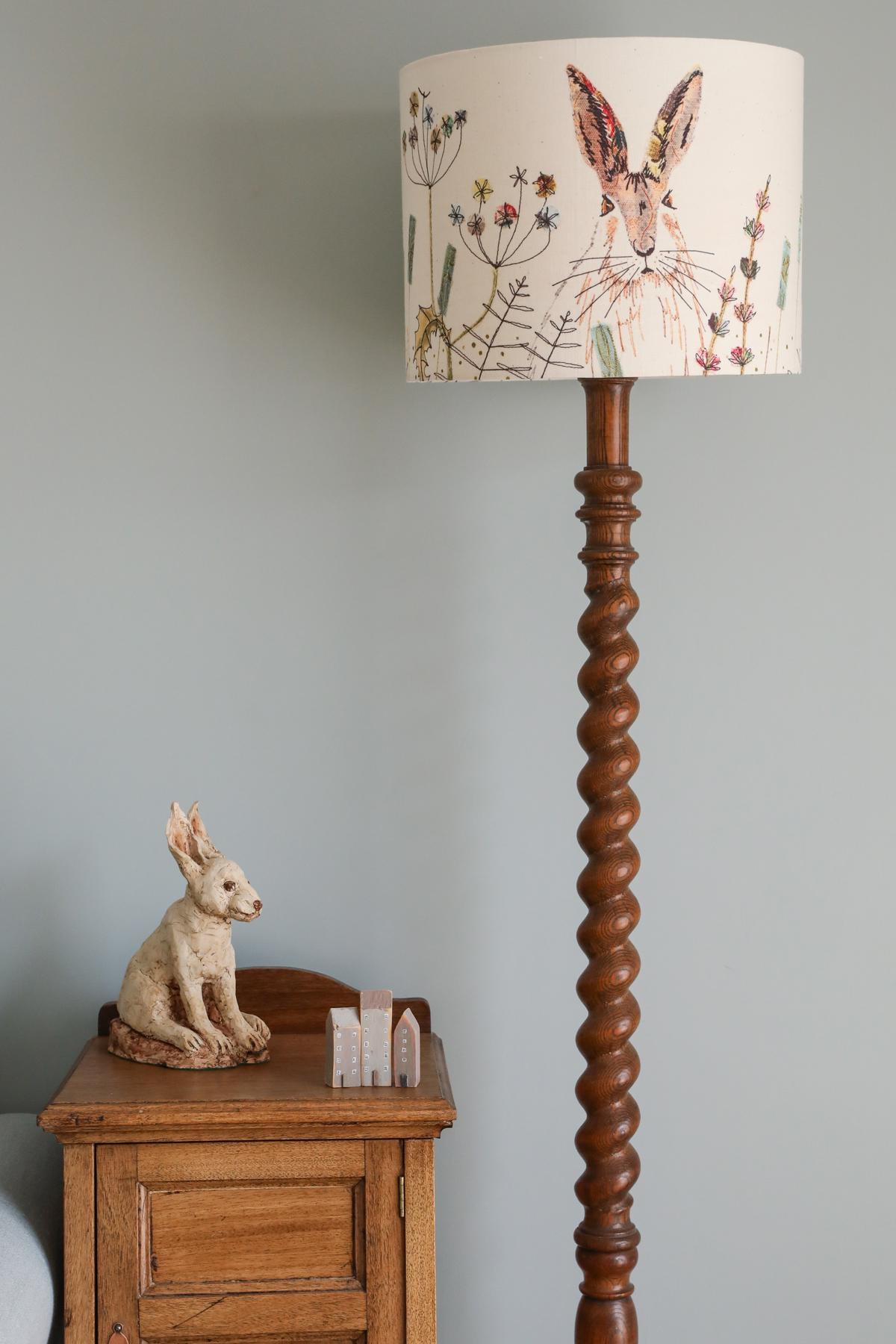 If your mum has already done some free motion embroidery (or hand sewing), she could have lots of fun making this delightful wren cushion cover! This kit contains everything needed to make a lovely, decorative cushion cover featuring two wrens in grasses. Use Jo's unique hand drawn templates to create your very own wildlife piece! The finished cushion cover measures 43cm x 43cm and is £35.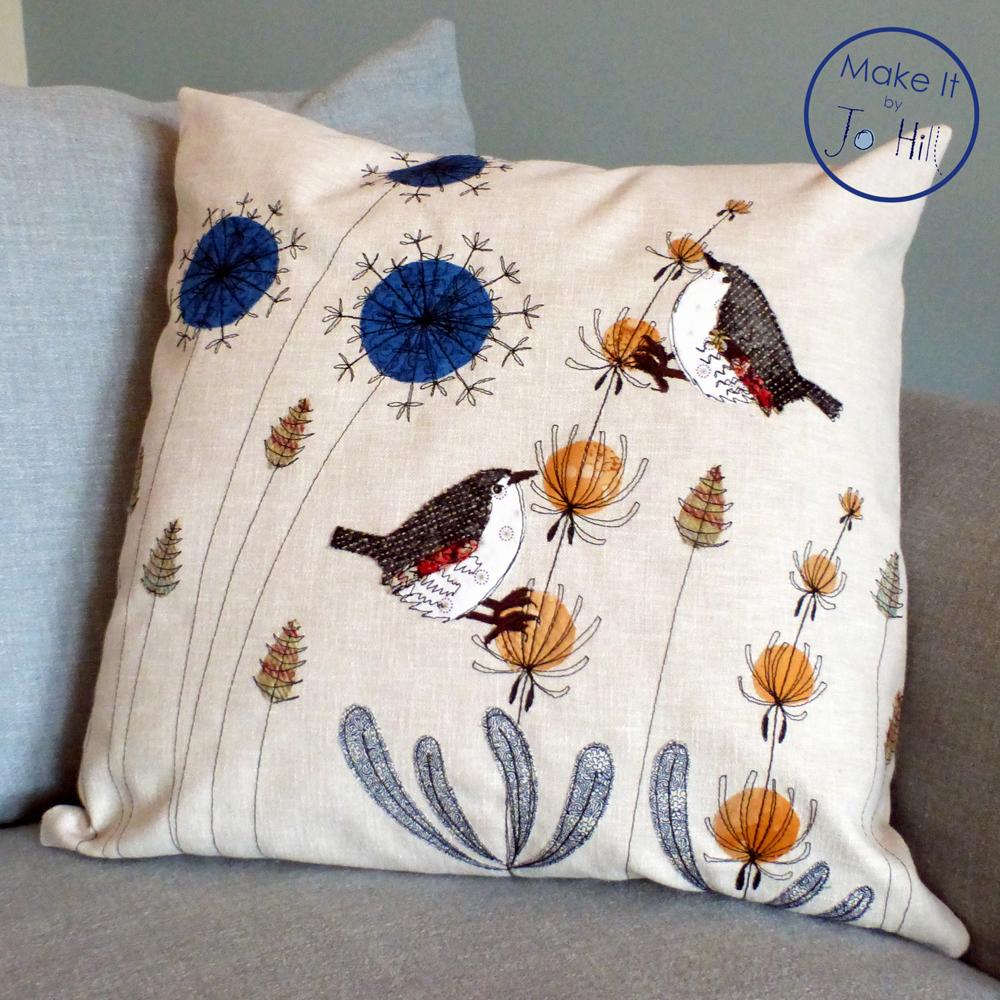 This delightful blue tit lampshade will become the focal point of any room! The kit will guide you in the art of free motion embroidery and appliqué using a selection of Jo's hand-dyed and carefully selected fabric. The box contains everything needed to make the shade (you'll just need to supply the base and bulb) and retails at £40. The finished shade measures 20cm x 18cm.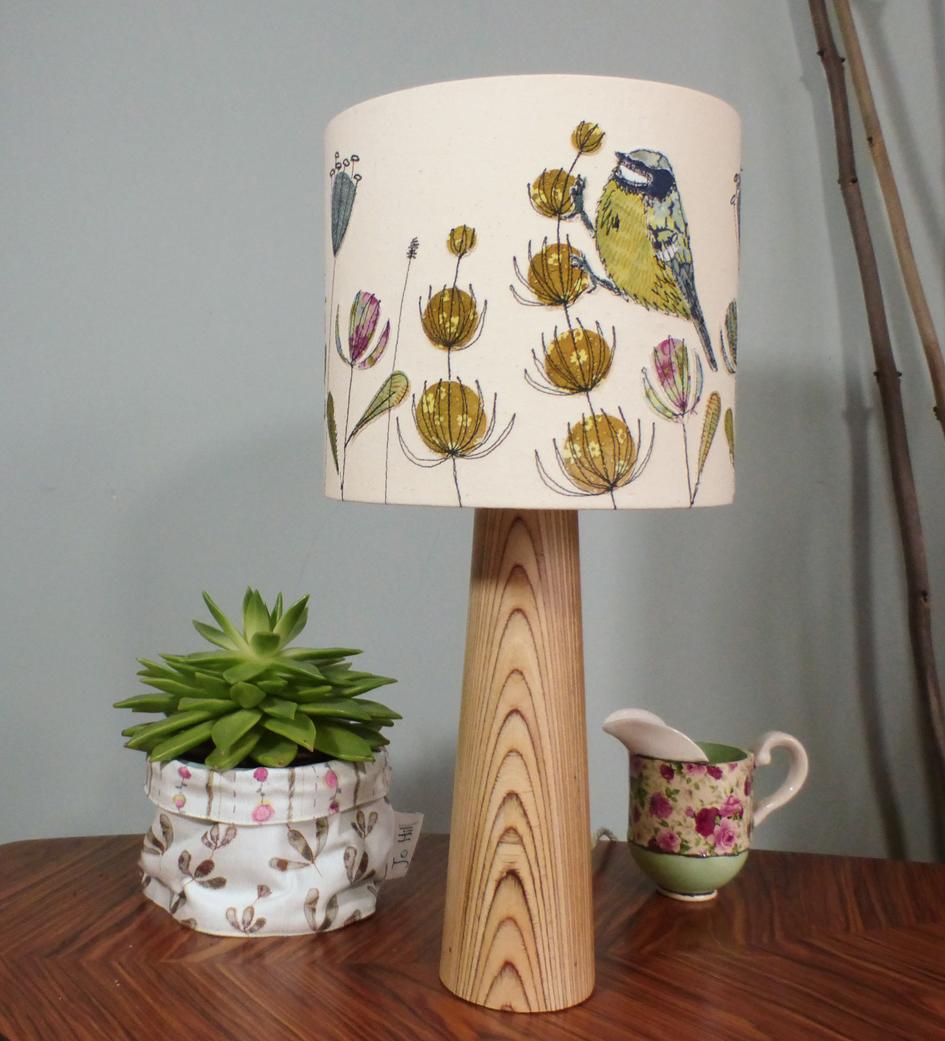 Cards and Gift Vouchers
We offer a range of greetings cards and gift vouchers, and also provide a hand-written, personalised message service so that your card and/or voucher can be sent directly to your recipient.