In December 2018 we were delighted to win the Theo Paphitis Small Business Sunday (SBS) award. This is a fantastic recognition from Theo who chooses his top six independent businesses on Twitter every Sunday evening. We feel very lucky to have been chosen, especially considering that fewer than 1% of all entries have been selected over the eight years that SBS has been running!
The idea behind the award was to celebrate the diversity of small businesses across the UK, and to create a supportive network for us all. It also gives winners the opportunity to attend a day of business talks, help and advice organised by Theo and his team. This annual day takes place in February, and last week we headed to the ICC in Birmingham to meet fellow winners.
The day itself was very well organised, with plenty of inspirational talks, advice from fellow business owners and the chance to network with a diverse range of independent business owners. And to make the day even better - it was all free, including lunch! The headline speaker was Scottish entrepreneur Sir Tom Hunter. In conversation with Theo, Tom told us that his business journey began when he started selling trainers from the back of his van; he then grew his business and opened several shops across the UK. Tom is now using his wealth to support charity projects through his philanthropic organisation, The Hunter Foundation. Very inspirational.
We would like to thank Theo and his team for this great opportunity, and look forward to attending the event for many years to come! Please follow Jo Hill Textiles on Instagram and Facebook to be kept up-to-date with our latest news, or sign up to the email newsletter (details on the homepage).
A little update...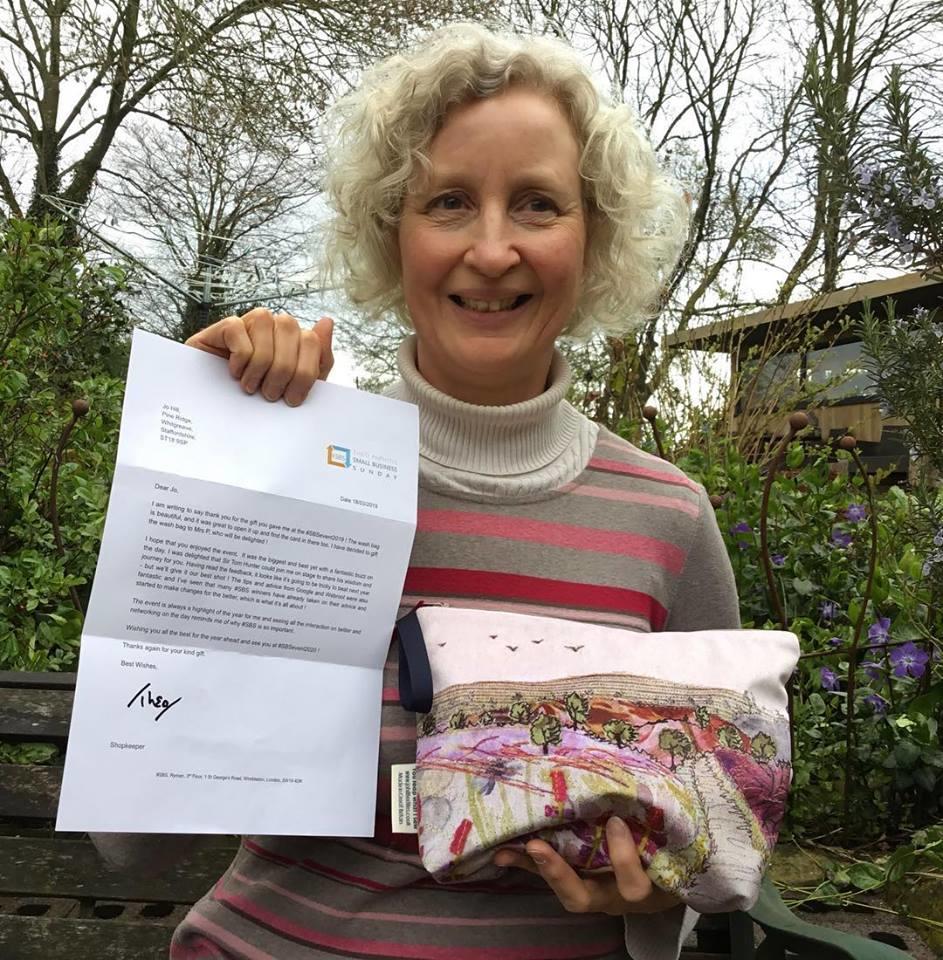 It was so lovely of Theo Paphitis to send me a thank you letter for the Cannock Chase cosmetic bag I sent him at the SBS event: "I have decided to gift the wash bag to Mrs P, who will be delighted!" ❤️ I hope she will! Beautifully soft velvet, fully lined and with a zip, these bags are made by me in my garden studio and can be used for cosmetics, as a pencil case, or anything you like!