Earlier this month, we asked our lovely customers for photos of their Jo Hill items in their forever homes. The response was wonderful and we've really enjoyed looking at how customers have displayed their homewares. It's so nice to receive lots of appreciative comments, too. Have a look through and be inspired!

Nerys bought one of the Goldcrest Lampshades and here she tells the story behind the purchase:
"I first met Jo when I attended a day learning about motion embroidery sewing in November 2018 which I thoroughly enjoyed. I loved her work and passion and ordered a lovely lampshade to add to my sewing workshop. My husband is really clever using oak and made the base to fit the lampshade as he'd made some previously as gifts and added the electrical components to complete the lamp. Between us we worked out the style and height to suit the lampshade and I'm really pleased with the finished product as it adds to the ambience of my workroom."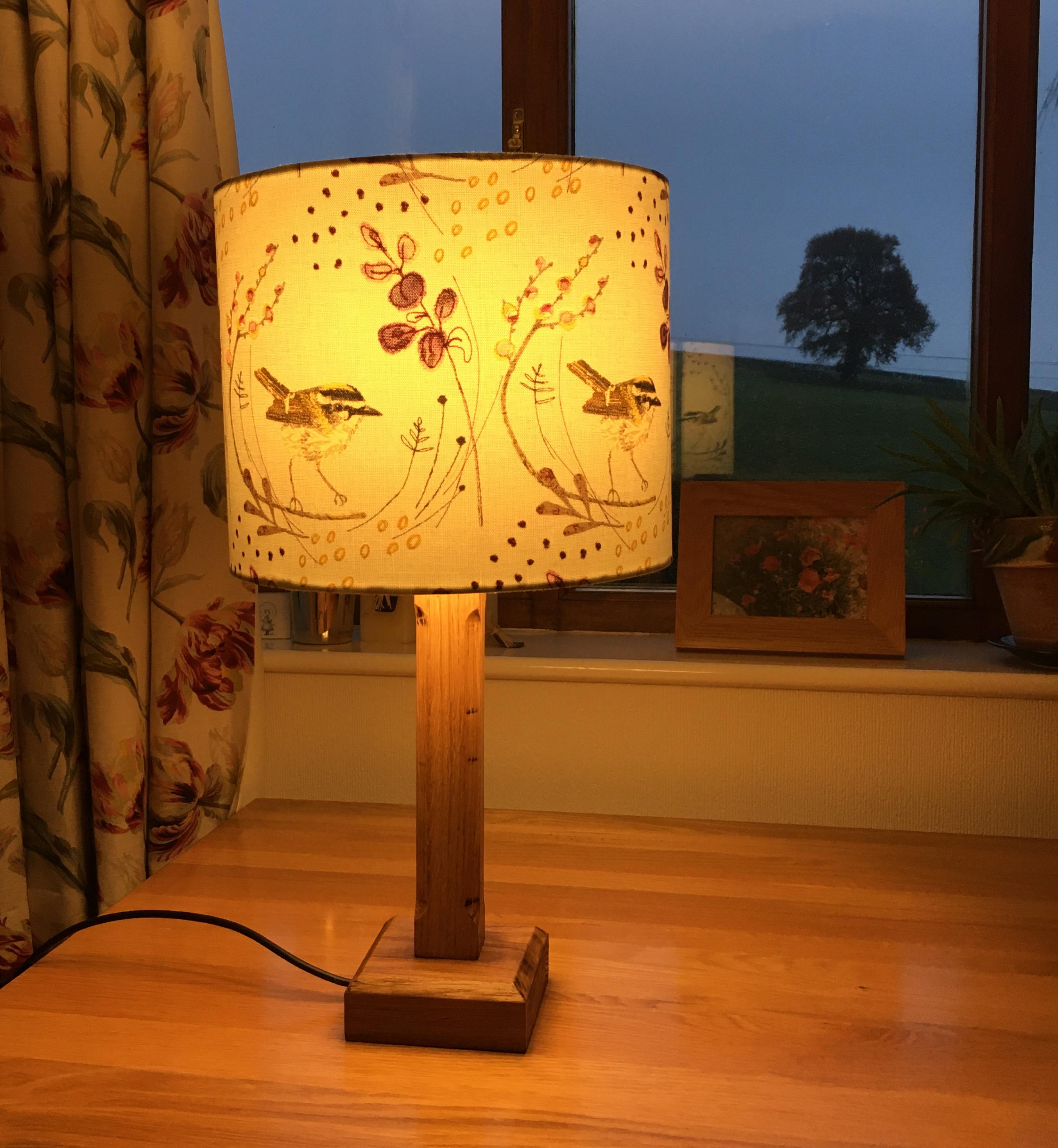 These two handmade originals were commissioned by Jill and the colours match so well in her home.

Here's one of the printed Hare lampshades, made for Carol.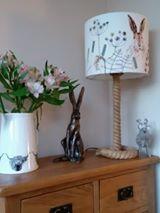 Tracey commissioned a lampshade of a view of the Menai Bridge for her husband. It was so much fun to make something different to the usual birds and wildlife. This lampshade was a very large shade, at 50cm diameter and was based on a photograph that Tracey supplied.
This pink and purple colour scheme of Linda's home is the ideal match for the Zinnias and Summer Garden cushions. Linda wasn't sure which cushions to choose, so we sent fabric swatches first to check she was happy with the choice.
"Dear Jo, Thank you so much for the lovely cushions, which I only just picked up yesterday from the post office. I'm attaching some pictures from playing with different combinations. Once again thank you for kind advice and care."




The blue settees are a great colour for setting off the Bullfinch and Summer Garden cushions.
Linda says: "Really pleased with them all. They look lovely and are very comfy as well, the velvet is so soft."



The medium size Hare in Grasses and Wren cushions in Jillian's home: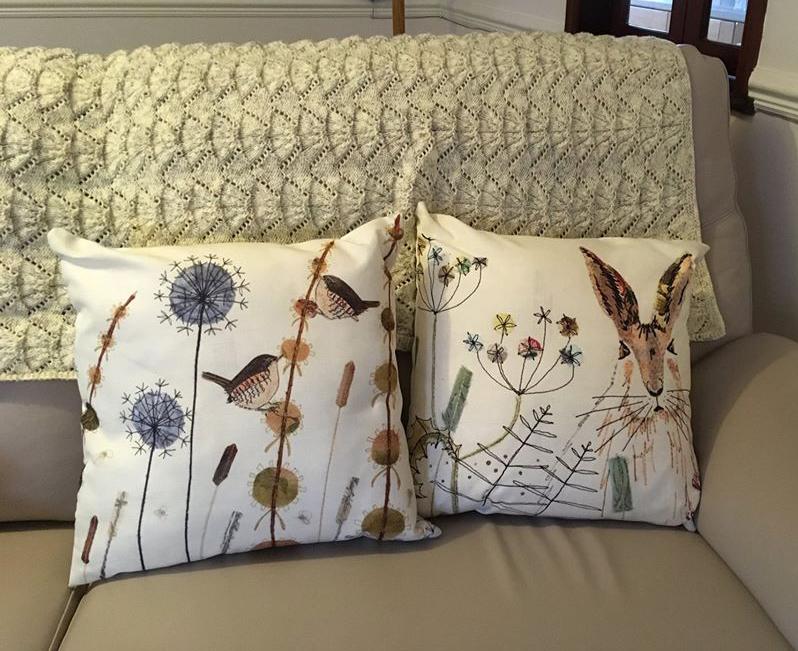 This is a handmade Landscape Lampshade created using free motion embroidery, appliqué fabrics and wool.

Dee bought the handmade Alliums wall hanging (you can see it on the far wall) and she says: "The colours in your embroidery inspired my colour scheme" and what a glorious colour scheme it is! The chairs are beautiful!


This lampshade was such a lovely item to make. You can also see the printed Bullfinch cushion on the bed. Bex says:
"Super chuffed with this beautiful lampshade that Jo made for us when we finally saved up some Christmas money after lusting after one all year! Matched wonderfully to the photos I sent Jo of our bedroom, the wild flowers around our cottage and the bird breeds that frequent the feeders. A true artist and a pleasure to deal with; thanks again Jo x"

This handmade Hare Lampshade was commissioned by Ruth. She wanted a slightly taller shade to fit in with her base.

Here is the Hay Bales handmade lampshade on the left, and the Evening Flight handmade lampshade in Sarah's home:
"Dear Jo,
I thought you'd like to see our beautiful lampshades in situ. The blue one was waiting for the base, which is why there was a delay!
They are admired very much!
Thank you!"